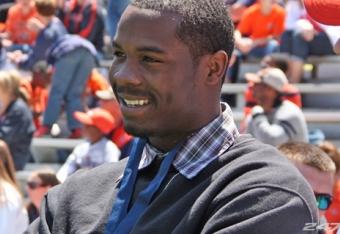 Via 247Sports

LSU's 2014 recruiting class has taken a huge hit, as it's being reported that 5-star JUCO wide receiver D'haquille Williams has decommitted from LSU.
Per his Twitter account, Taylor Hamm of 247Sports cites a text he received from Williams saying that he'd decommited from the Tigers:
Williams has elite measurables, checking in at 6'3'', 213 pounds, running a 4.40 40, according to 247Sports. He's also ranked as the No. 1 JUCO wideout in the nation and the No. 1 overall JUCO recruit in the 2014 class, both according to the 247Sports Composite.
As far as JUCO players are concerned, Williams is the best of the best, so losing his commitment is a massive blow to LSU's recruiting efforts in 2014.