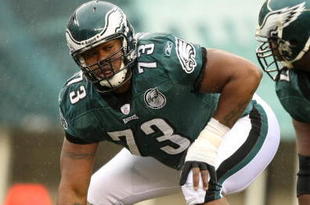 By Andy R (Photo: Al Bello/Getty Images)
It's being reported that the Philadelphia Eagles have released two-time Pro Bowler Shawn Andrews after two seasons riddled by injuries. The offensive guard has struggled with back problems and depression the last two seasons...
Previews/Predictions
by Viraj Singh
A Couple of Big News Items 1. Michael Vick Yes, Michael Vick practiced today. He originally practiced in some offense only drills, where he completed slant patterns and regular routes...