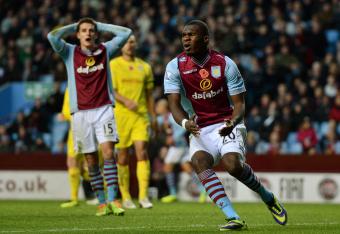 Michael Regan/Getty Images
In the 85th minute of the goalless draw between Aston Villa and Sunderland, Christian Benteke was taken off to a chorus of approval from the home crowd.
Fans sitting in the famous Holte End of Villa Park had been calling for his removal from around the 60th minute onward. The fact his eventual exit was greeted with cheers highlights the stark contrast between now and the feeling toward him at the end of last season.
No doubt about it, Benteke was a major factor in saving the club from relegation to the Championship a year ago. His 19 league goals fired them to safety. In missing the final game at Wigan Athletic, Benteke gave us a glimpse of what Villa look like without him—it was poor.
His dominant style drags Villa up the pitch. He creates goals, scores goals and he's been deadly consistent...until now.