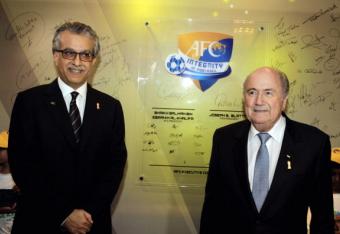 Stanley Chou/Getty Images
FIFA president Sepp Blatter struck a populist tone on Tuesday when he addressed an audience at the Asian Football Confederation awards in Kuala Lumpur, Malaysia.
Speaking as to the ongoing criticism of his organization's decision to award the 2022 World Cup to Qatar, the 77-year-old told delegates it wasn't "fair" for international media, and "especially European media," to train their focus so exclusively on an Arab country.
"We have taken a decision to play a World Cup in the Arabic world," he said, as per The Guardian. "We have taken the decision to play in Qatar and we will go and play...in 2022 in Qatar."
It wasn't the first time Blatter had taken an anti-Europe position in defending the controversial 2022 event, which continues to be censured because of Qatar's LGBT laws, treatment of migrant workers and seasonal issues that will likely move the tournament from the traditional June-July calendar block to one between November and February.