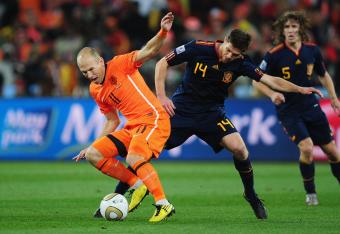 Clive Mason/Getty Images
Group B, with Spain, Chile, Australia and the Netherlands, sounds like an appetising group, one obviously with three clear teams in front.
I see Chile a little bit ahead of Holland for one reason: Now they have a goalscorer in Alexis Sanchez. It's a team that has worked as a team with the same idea for a while, and this could be one of those dark horses, at least to get out of the group.
I can see Chile, Spain and the Netherlands getting points in the games, which will probably mean that it will be a very tight group. I see Spain with that difficulty of renewing hopes and dealing with expectations. They know how to win games, which is essential in this kind of situation, from the beginning.
Historically, Spain start very slowly, but the first game is against the Netherlands, so there is no chance of that taking place, because if it does, that's it for Spain. A draw there would be interesting, and then beating Chile and Australia will take them to the next round.