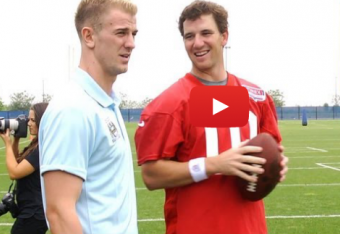 Manchester City are really throwing themselves into their short U.S. trip this week.
As well as playing two friendlies against Chelsea (the first finished in a 4-3 loss), the Premier League club have announced the purchase of a new MLS franchise and made numerous public appearances.
The above clip shows City players meeting New York Giants quarterback Eli Manning at their training facility.
Manning explains the trajectory of his throw and has City goalkeeper Joe Hart play wide receiver to run and make a catch.