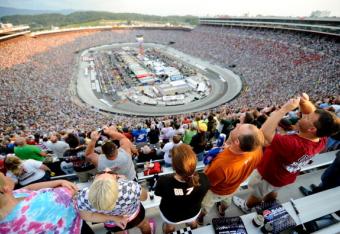 Jared C. Tilton/Getty Images
We've seen a rise in the existence of neutral-site games over the last few years.
The success of the Chick-fil-A Kickoff Game—which bills itself as the "Daytona 500 of college football"—has created spinoff neutral-site showdowns in Houston, East Rutherford, N.J. and Arlington, Texas. But another neutral-site game is more likely to take over that Daytona 500 moniker in a few years.
Virginia Tech and Tennessee are planning a neutral-site game in 2016 at Bristol Motor Speedway in Bristol, Tenn., according to CBSSports.com's Bruce Feldman.
As B/R's Tyler Conway notes, this event has been discussed before, even as far back as 2005.