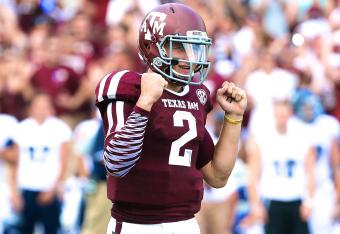 Is this Johnny Manziel's last ride as a college football player?
The redshirt sophomore signal-caller for the Texas A&M Aggies is three years removed from high school, and could bolt to the NFL after this season if he hears good things from NFL scouts.
That means, assuming something crazy doesn't happen atop the SEC West standings, there's only five more chances for college football fans to get a glimpse of one of the most amazing players to ever play the sport.
If the Aggies win the first four—versus UTEP, Mississippi State, at LSU and at Missouri—there's a good chance the fifth would be on the big stage in a BCS bowl.