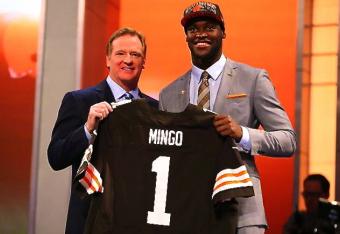 Those "S-E-C" chants you hear from fans after big out-of-conference wins have become a point of pride for the nation's toughest college football conference and a seemingly constant annoyance for fans of teams outside the SEC.
If you listened closely, you probably heard a few of those chants coming from Radio City Music Hall in New York City on Thursday night, as the SEC dominated the first round of the 2013 NFL draft more thoroughly than it ever has before.
The SEC had 12 players drafted in the first round, which ties the ACC (2007) for the most players taken by one conference in the first round. Those SEC first-round picks were one more than the next two conferences combined (Pac-12 and ACC). Eleven of those 12 players were rated with four stars or more coming out of high school or junior college in the 247Sports.com composite index.
Leading the way was Alabama, which sent Dee Milliner, Chance Warmack and D.J. Fluker to the New York Jets, Tennessee Titans and San Diego Chargers, respectively, with picks 9-11. Georgia, Florida and LSU each had two players selected on Thursday, while Tennessee, Missouri and Texas A&M each had one.