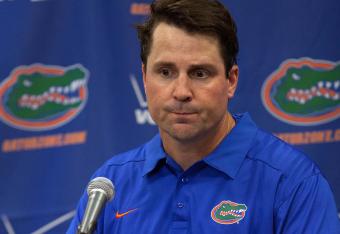 Florida head coach Will Muschamp
Rob Foldy-USA TODAY Sports
In just one month, Florida head coach Will Muschamp's seat has gone from room temperature to scorching hot. The third-year head coach of the Gators has seen his team lose three straight, fall to 4-4 on the season, drop out of the race for the SEC East title and face the possibility of bowl ineligibility.
If Florida loses to Vanderbilt this weekend, it still has clashes with Top 15 teams in South Carolina and Florida State left on the schedule. That'd likely put the Gators at 5-7 and would give them their first sub-.500 record since 1979.
That would be unacceptable, and at that point, all bets would be off for Muschamp.
He has addressed the importance of bowl eligibility for his team.