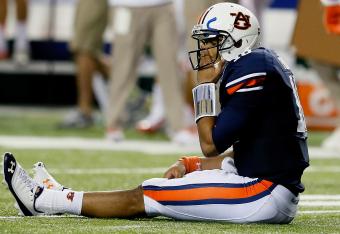 Auburn QB Kiehl Frazier
Kevin C. Cox/Getty Images
Recruiting is serious business nowadays, and for the top-rated quarterbacks, it's a time when college coaches paint a picture of a road paved with SEC titles, crystal footballs and NFL dollars.
Then the prospect sets foot on campus, and the "de-recruiting" process begins. Top-tier quarterbacks often find themselves in the uncustomary position of fighting for playing time.
Of course, sometimes the season is the best "de-recruiting" tool of all, as several highly touted quarterbacks have found out over the last few seasons.
Kiehl Frazier signed with Auburn in 2011 as the reigning USA Today offensive player of the year and the heir apparent to Heisman Trophy-winning quarterback Cam Newton. He saw spot duty as a Wildcat quarterback in 2011 before failing miserably in his first season as a starter in 2012.