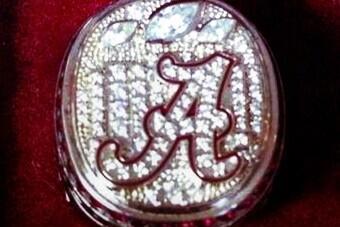 Photo courtesy: @CarsonTink

To the victor goes the spoils, and Alabama's players are yet again getting spoiled with some pretty flashy jewelry.
Members of Alabama's 2012 BCS national championship team received their championship rings on Monday, and they are quite flashy.
Long snapper Carson Tinker, who was a member of all three title teams of the current Crimson Tide dynasty, tweeted a picture of one of the 2012 national-championship rings:
Well done.
Bling?
There's lots of it. There are so many diamonds (or cubic zirconia due to NCAA value limitations) that it is almost blinding, but the ring is traditional in the sense that there's not much to it.