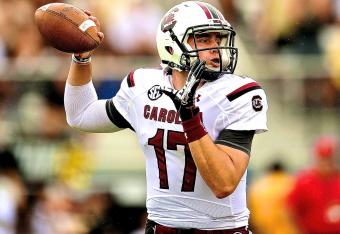 Remember back in summer when there was a supposed quarterback controversy at South Carolina? There wasn't.
A healthy Connor Shaw is and always has been the No. 1 option at quarterback, but staying healthy has been an issue for the senior from Flowery Branch, Ga.
Shaw injured his shoulder in the opener last season, forcing him to miss the Gamecocks' second game. He then missed the regular-season finale against Clemson with a foot injury. The injury bug bit him again on Saturday, in a 28-25 win over Central Florida in Orlando.
Shaw was hit and fumbled on South Carolina's first drive, and he was knocked out of the game with a sprained shoulder. According to head coach Steve Spurrier, Shaw will be sidelined for the immediate future (via Josh Kendall of The State):