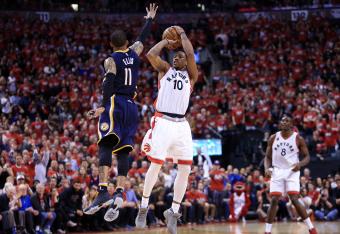 Vaughn Ridley/Getty Images
Toronto Raptors guard DeMar DeRozan set a single-game franchise playoff record with his 32 field-goal attempts in Sunday's 89-84 Game 7 victory over the Indiana Pacers, per ESPN Stats & Info.
Continuing a trend from throughout the series, DeRozan had another high-volume, low-efficiency shooting performance, making just 10 of the 32 field-goal attempts, including only one of his five shots from beyond the arc.
He did, however, sink all nine of his free throws, adding five rebounds, two assists, three steals and two blocks while only turning the ball over one time.
Despite his many misses, DeRozan became the first NBA player since Allen Iverson in 2001 (against the Milwaukee Bucks) to record 30-plus field-goal attempts and 30-plus points in Game 7 of a playoff series, per Sportsnet Stats.