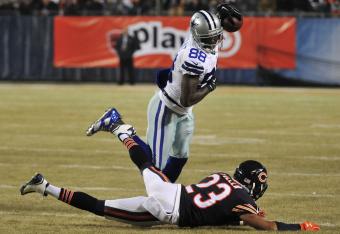 David Banks/Getty Images
Dallas Cowboys wide receiver Dez Bryant went over 1,000 yards for the season during Thursday's 41-28 win over the Chicago Bears, making him just the third player in franchise history to record three consecutive seasons with 1,000 or more receiving yards, per ESPN Stats & Info.
Bryant finds himself in rather excellent company, joining Hall of Famer Michael Irvin (1991-1995) and future Hall of Famer Terrell Owens (2006-2008) as the only Cowboys to accomplish the feat.
Bryant had 1,382 receiving yards in 2012 and 1,233 yards last season, good for fourth and ninth places on the Cowboys' single-season list.
He entered Thursday's contest with 952 receiving yards this season, needing just 48 to hit the milestone for a third consecutive year.