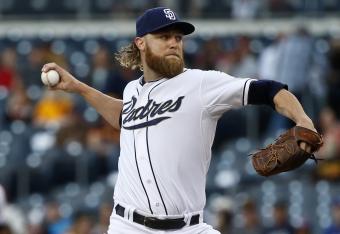 Lenny Ignelzi/Associated Press
San Diego Padres pitcher Andrew Cashner recorded an unusual stat line in Monday's 7-0 loss to the New York Mets, becoming the first pitcher in the modern era (since 1900) to allow 10 or more hits while striking out 10 or more batters over fewer than five innings, per Elias Sports Bureau (via ESPN.com).
Cashner gave up six runs (five earned) on 11 hits and no walks over 4.2 innings, despite striking out 12 of the 25 batters he faced.
He gave up a two-run home run to Mets second baseman Daniel Murphy in the fifth inning, and of the 12 balls that Mets batters put into play, 10 fell for hits.
There was only one fielded out behind Cashner—third baseman Will Middlebrooks made an error in the third inning, and Murphy was thrown out attempting to steal.