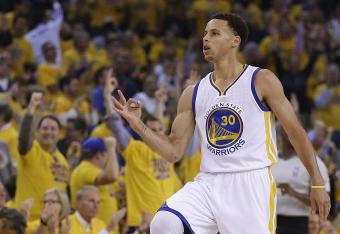 Ben Margot/Associated Press
Golden State Warriors guard Stephen Curry made six three-pointers in Tuesday's 110-106 Game 1 win over the Houston Rockets, making him the first player in NBA history to hit six or more threes in three consecutive playoff games, per NBA.com/stats.
Curry sunk six of his 11 attempts from beyond the arc along with seven of his 11 attempts from two-point range, finishing with a game-high 34 points on just 22 field-goal attempts and three free-throw attempts.
In addition to his remarkably efficient scoring, the 27-year-old superstar had six rebounds, five assists and two steals with just one turnover in 39 minutes.
Curry previously made six of his 13 three-point attempts in a Game 5 win over the Memphis Grizzlies in the Western Conference semifinals and then made eight of his 13 three-point attempts in the deciding Game 6.