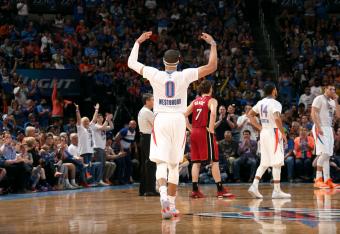 Layne Murdoch/Getty Images
Oklahoma City Thunder guard Russell Westbrook recorded 12 points, 10 rebounds and 17 assists in Sunday's 93-75 win over the Miami Heat, making him the seventh player since 1985-86 to record 10 or more triple-doubles in a single season, per Sportsnet Stats.
With Thunder forward Kevin Durant sidelined by a foot injury since Feb. 19, Westbrook has recorded eight of those triple-doubles in his last 13 games.
Per ESPN Stats & Info, the 26-year-old guard is the first player since Jason Kidd in 2007-08 to notch 10 triple-doubles in the same season.
Prior to Kidd and Westbrook, the last three players to accomplish this feat were Grant Hill, Magic Johnson and Larry Bird, per ESPN Stats & Info.