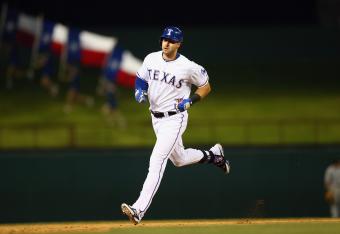 Ronald Martinez/Getty Images
Texas Rangers third baseman Joey Gallo hit a solo home run off of Chicago White Sox pitcher Zach Duke in the ninth inning of Wednesday's 9-2 loss, becoming the first player in franchise history to homer in both of his first two games, per MLB Stat of the Day.
While the blast was meaningless in terms of helping the Rangers win, it was a nice way for Gallo to finish his evening, after his first three at-bats resulted in strikeouts at the hands of White Sox ace Chris Sale, who fanned 13 batters and allowed just three hits over seven scoreless innings.
The 21-year-old Gallo had an easier time of things in his MLB debut Tuesday against the White Sox, as he managed three hits in four at-bats with a home run, a double, four RBI, three runs and a walk, helping his team to a 15-2 win.
While things obviously won't always be so easy, Gallo has already shown a glimpse of why his future is so bright.