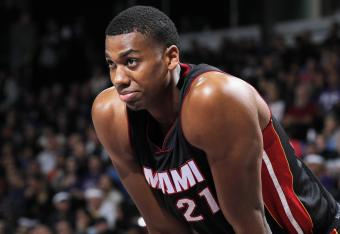 Rocky Widner/Getty Images
Miami Heat center Hassan Whiteside turned in a remarkable performance in Sunday's 96-84 win over the Chicago Bulls, becoming the first player in franchise history to record a triple-double that includes blocks, per ESPN Stats and Info.
Whiteside recorded 14 points, 13 rebounds and 12 blocks over just 24 minutes, 37 seconds to set a new NBA record for fewest minutes played in a game with 10 points, 10 rebounds and 10 blocks, per NBA.com/Stats.
He also logged the second-fewest minutes in a 12-block game, behind only Manute Bol's 12-block performance over 23 minutes in 1986-87, per NBA.com/Stats.
Furthermore, Whiteside became the first player since Shawn Bradley in 1997-98 to record 12 or more points, rebounds and blocks in the same game, per ESPN Stats & Info.