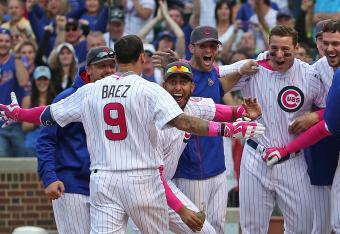 Jonathan Daniel/Getty Images
The Chicago Cubs improved to 24-6 with Sunday's 4-3 win over the Washington Nationals in 13 innings, becoming the first team since the 1984 Detroit Tigers (26-4) to win 24 or more of its first 30 games in a season, per MLB Stat of the Day.
Only the 10th team in MLB history to start 24-6 or better, the Cubs boast an astounding plus-102 run differential, leading all of the majors in both runs scored (184) and allowed (82).
They already have a commanding lead in the National League Central, sitting 7.5 games ahead of the Pittsburgh Pirates (17-14) and nine clear of the St. Louis Cardinals (16-16).
The Pirates qualified for the playoffs in each of the past three seasons, and the Cardinals are hoping to add to a streak of five straight years.