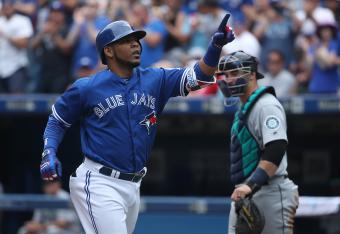 Tom Szczerbowski/Getty Images
When Toronto Blue Jays designated hitter Edwin Encarnacion took Seattle Mariners pitcher Wade Miley deep in the fourth inning of Sunday's series finale, he surpassed Vernon Wells for third place on the all-time franchise leaderboard for home runs, per ESPN Stats & Info.
With Wells now in the rear-view mirror, Encarnacion (224 home runs) only trails teammate Jose Bautista (255) and Carlos Delgado (336) for the most home runs in Blue Jays history.
Encarnacion and Bautista are both currently playing on the final year of their respective contracts, which could wind up concluding the career of one of the two in Toronto.
Neither of the two is necessarily headed out of town, but that will likely be decided in the offseason. However, the two have had vastly different contract seasons.