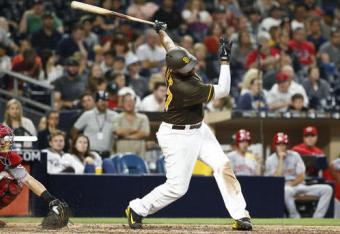 Lenny Ignelzi/Associated Press
The San Diego Padres lost 6-0 to the Cincinnati Reds on Friday, marking the end of a National League record-tying streak of 25 consecutive games with at least one home run as a team, per ESPN Stats & Info.
The Padres eked out just five singles and a double in Friday's ugly home loss, allowing Reds starter Brandon Finnegan (six innings) to improve his record to 6-8 and ERA to 4.68.
Padres starter Edwin Jackson (1-2) took the loss, giving up six runs (all earned) on 10 hits and two walks over five innings.
The team needed just two more games to tie the all-time record of 27 straight games with a home run, set by a 2002 Texas Rangers squad that featured sluggers Alex Rodriguez (57 homers), Rafael Palmeiro (43) and Ivan Rodriguez (19 in 104 games).