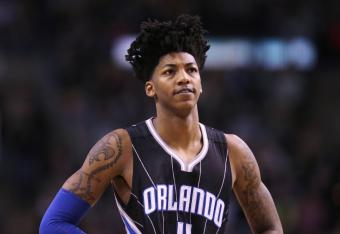 Charles Krupa/Associated Press
Despite not getting the start, Orlando Magic point guard Elfrid Payton put up 20 points, 10 rebounds and 10 assists in Wednesday's 118-102 loss to the Detroit Pistons, becoming the first Magic player since Brian Shaw in 1995-96 to record a triple-double off the bench, per ESPN Stats & Info.
Having recently missed five consecutive games from March 11 to March 18 due to a wrist injury, Payton was dropped from the starting lineup in favor of Brandon Jennings, who was acquired along with forward Ersan Ilyasova in the February trade that sent forward Tobias Harris to the Detroit Pistons.
Both Jennings and Payton have been inconsistent since, leading to a rotation of sorts in the Orlando backcourt, with 31-year-old C.J. Watson also having a role in some games.
However, the 22-year-old Payton appeared to re-assert himself in Wednesday's contest, as his triple-double was accompanied by just one turnover, though he did only make nine of his 21 field-goal attempts.