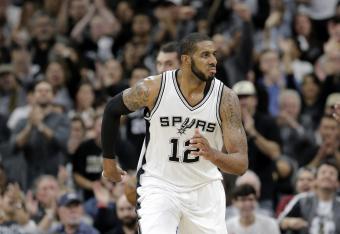 Eric Gay/Associated Press
San Antonio Spurs forward LaMarcus Aldridge scored 41 points in Monday's 98-97 loss to the Oklahoma City Thunder, and he joined George Gervin as the only players in franchise history to record 38 or more points in back-to-back playoff games, per Elias Sports Bureau (via NBA.com/Stats).
After dropping exactly 38 while sinking 18 of his 23 field-goal attempts in Saturday's 124-92 Game 1 victory, Aldridge was arguably even more impressive Monday, as he needed just 21 field-goal attempts (15 made) to top the 40-point mark for the third time in his 40 playoff appearances.
He sank all 10 of his free throws and didn't turn the ball over, adding eight rebounds, three assists and two blocks for good measure.
Aldridge had just six rebounds, one assist, two blocks and two turnovers in Game 1—but it's worth noting that he only logged 30 minutes in the blowout, compared to an individual postseason-high 43 minutes in Monday's tight contest.