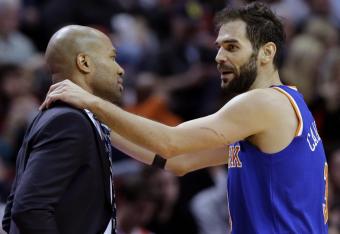 Nam Y. Huh/Associated Press
The New York Knicks enter Wednesday's road game against the Washington Wizards with hopes of ending a 12-game losing streak that began Dec. 14.
Having previously lost 10 straight games from Nov. 24 to Dec. 10, the Knicks have multiple double-digit losing streaks in a single season for the first time in franchise history, per ESPN Stats & Info.
With the streaks separated by just a lone 101-95 win against the Boston Celtics on Dec. 12, the Knicks have incredibly lost 22 of their past 23 games, with 31 losses in the last 34 contests.
And it doesn't appear to be getting much better anytime soon, as the Knicks traded guards J.R. Smith and Iman Shumpert to the Cleveland Cavaliers on Monday in a move designed to save money while increasing cap flexibility.