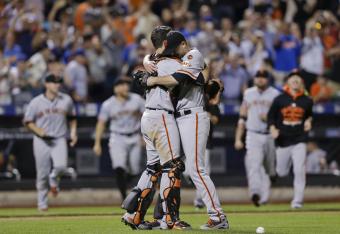 Frank Franklin II/Associated Press
San Francisco Giants pitcher Chris Heston threw an unusual no-hitter in Tuesday's 5-0 win over the New York Mets, becoming the first player in major league history to hit three batters in a no-no, per Jeff Passan of Yahoo Sports.
The 27-year-old right-hander turned in a truly remarkable performance, needing just 110 pitches to make it through the game even though he struck out 11 batters, including the last three he faced.
Despite what the three hit batsmen might suggest, Heston otherwise had surprisingly excellent control, allowing zero walks on the night.
Per ESPN Stats & Info, he's the "first rookie to throw a no-hitter since Boston Red Sox pitcher Clay Buchholz in 2007."