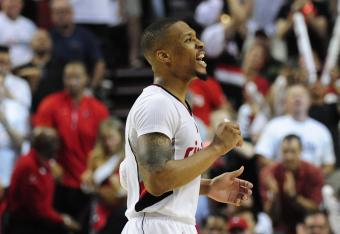 Steve Dykes/Getty Images
Portland Trail Blazers guard Damian Lillard had 40 points and 10 assists during Saturday's 120-108 win over the Golden State Warriors in Game 3 of the Western Conference Semifinals, becoming the first Portland player since Clyde Drexler (1992) to record 40-plus points and double-digit assists in a single playoff game, per ESPN Stats & Info.
After falling into a 2-0 series hole on the road, Lillard came out firing in Portland on Saturday, putting up 25 points in the first half alone, with five of his seven three-point attempts falling through.
Per ESPN Stats & Info, Lillard's 25 points were the most he's ever scored in one half of a playoff game, topping the 20 he produced in the second half of Game 1 of the ongoing series.
Had he scored three more points before halftime, Lillard would've broken the franchise playoff record of 27 points in a single half—which has oddly been achieved four times, per the Trail Blazers' PR Twitter account.