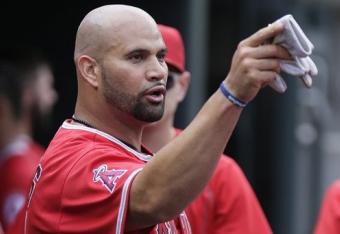 Duane Burleson/Associated Press
Los Angeles Angels first baseman Albert Pujols owns 585 career home runs, placing him 10th on the all-time list with two more than notorious slugger Mark McGwire (583), per Baseball-Reference.com.
Nicknamed The Machine for his yearly consistency at the plate (also earning him a SportsCenter commercial), Pujols has played fewer than 100 games just once in his 16-year career—falling one game shy of the mark in 2013.
Pujols' accomplishments at the plate earned him Rookie of the Year honors in 2001 and three MVP awards (2005, 2008, 2009), but he wasn't a slouch defensively, either. The 36-year-old has taken home two Gold Gloves as well.
While his age has finally caught up to him and forced him to serve the majority of his games at designated hitter for the Angels, it's just the first time in his career that's been the case.