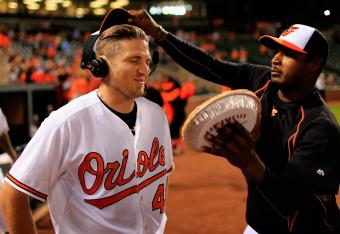 Rob Carr/Getty Images
The Baltimore Orioles set a single-game franchise record by hitting eight home runs in Tuesday's 19-3 win over the Philadelphia Phillies at Oriole Park at Camden Yards, per Sportsnet Stats.
It didn't take long for the onslaught to start, with Orioles third baseman Manny Machado leading off the bottom of the first inning with a solo shot to deep left field.
Although the Orioles didn't hit any more homers in the frame, they still managed to plate six runs, knocking out Phillies starter Jerome Williams after just two-thirds of an inning.
Williams was replaced by relief pitcher Dustin McGowan, who served up another solo homer to Machado to lead off the bottom of the second inning.