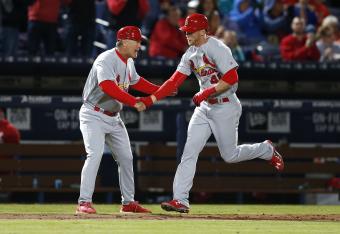 Mike Zarrilli/Getty Images
The St. Louis Cardinals set a new MLB record during Friday's 7-4 win over the Atlanta Braves, becoming the first team ever to hit three pinch-hit home runs in a single game, per MLB Stat of the Day on Twitter.
St. Louis actually got off to a poor start in the contest, with starting pitcher Jaime Garcia allowing four runs—including three with two outs—in the bottom of the third inning thanks to five singles and an intentional walk.
The Cardinals did bounce back to score three runs in the top of the fourth, but the game was stuck at 4-3 until the top of the seventh, when outfielder Jeremy Hazelbaker came in to pinch hit for Garcia and responded with a game-tying solo home run.
A 28-year-old rookie, Hazelbaker now has two home runs and three hits through the first six at-bats of his career.