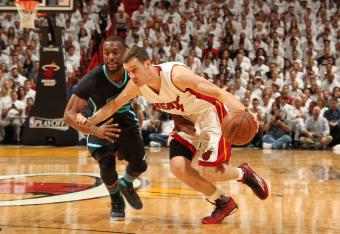 Issac Baldizon/Getty Images
The Miami Heat defeated the Charlotte Hornets by a score of 106-73 in Sunday's Game 7 of their opening-round playoff series, marking the fifth-largest point differential (33) in a Game 7 in NBA playoff history, per ESPN Stats & Info.
It was also the largest Game 7 win in franchise history, topping any such victories from the team's four-year LeBron James era.
The rout was led by starting point guard Goran Dragic, who made 11 of his 17 field-goal attempts for a game-high 25 points, also adding six rebounds, four assists and a block, with only a pair of turnovers.
Other key contributors included forward Luol Deng—who had 15 points, eight boards and four assists despite attempting just nine shots in 27 minutes—along with center Hassan Whiteside, who recorded 10 points, 12 rebounds and a series-best five blocks.