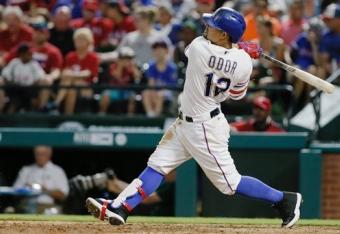 Brandon Wade/Associated Press
Texas Rangers second baseman Rougned Odor hit his 20th and 21st home runs of his year in Friday's 8-3 win over the Kansas City Royals, reaching the 20-homer barrier for the first time in his three MLB seasons.
He had just nine homers in 386 at-bats as a rookie in 2014 but improved to 16 (in 426 at-bats) last season, with 12 of those coming after the All-Star break.
The 22-year-old has built on last year's strong finish for a true breakout campaign in 2016, and he is on pace for 33 home runs, 84 RBI and 100 runs in 608 at-bats.
Also boasting a .282 batting average and .508 slugging percentage, Odor's only weakness has been his inability to draw walks, with just nine in 96 games limiting his on-base percentage to .301.