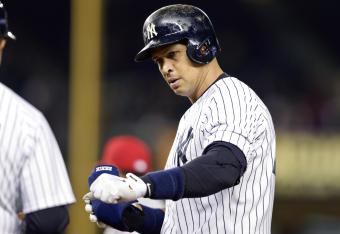 Frank Franklin II/Associated Press
New York Yankees third baseman Alex Rodriguez had an historic game in Friday's 8-7 win over the Los Angeles Angels, taking sole possession of second place on the all-time RBI list, along with sole possession of eighth place on the all-time runs list, per ESPN Stats & Info.
Previously even with Barry Bonds at 1,996 career RBI, Rodriguez broke the tie with a single off of Angels pitcher Jered Weaver in the fifth inning, giving the Yankees a 5-0 lead when outfielder Brett Gardner crossed home plate.
Oddly enough, while he's third on the list provided by MLB.com, Rodriguez is technically considered by MLB to be in second place on the official all-time list, as the RBI only became an official stat in 1920.
Per Yahoo Sports' Mark Townsend, both Ruth and Cap Anson would have more RBI than Rodriguez if the stat had been official prior to 1920, though Anson is only listed 11th on the list provided by MLB.com, while Ruth is second.