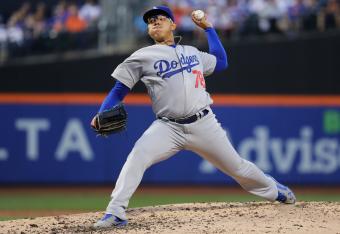 Al Bello/Getty Images
Los Angeles Dodgers pitcher Julio Urias, 19, became only the third teenager in the last 20 years to pitch in a major league game when he stepped onto the mound for the first inning of Friday's eventual 6-5 loss to the New York Mets, per ESPN on Twitter.
The hard-throwing left-hander thus joined Seattle Mariners ace Felix Hernandez (2005) and Baltimore Orioles pitcher Dylan Bundy (2012)—both of whom also debuted at the age of 19.
Prior to Hernandez, the last 19-year-old to pitch in the majors was Todd Van Poppel of the 1991 Oakland Athletics, while Jose Rijo of the 1984 New York Yankees was the last player to debut at 18, per Baseball-Reference.com (h/t High Heat Stats MLB via ESPN.com's SweetSpot Blog).
Widely viewed as one of the top prospects in all of baseball, Urias earned his call-up by dominating the competition at Triple-A Oklahoma City earlier this season, posting a 4-1 record and 1.10 ERA through 41 innings with 44 strikeouts, only eight walks and just two home runs allowed.