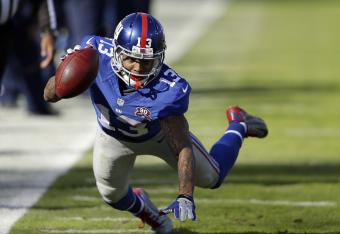 James Kenney/Associated Press
New York Giants wide receiver Odell Beckham Jr. topped 90 receiving yards for a sixth consecutive game in Sunday's 36-7 win over the Tennessee Titans, giving him the longest such streak by a rookie in American professional football history, according to Pro-Football-Reference.com.
Rookie or not, Beckham is one of just 14 players to hit 90 receiving yards in six or more consecutive games, though the feat has been accomplished 16 times thanks to Calvin Johnson on three separate occasions.
The record for consecutive 90-yard receiving performances is nine, set by Michael Irvin for the Dallas Cowboys over the first nine games of the 1995 season.
Despite missing the Giants' first four games with a hamstring injury, Beckham has made his rookie campaign one of the most memorable in recent NFL history.