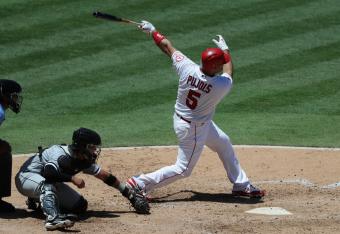 Sean M. Haffey/Getty Images
Los Angeles Angels designated hitter Albert Pujols used a big game against the Chicago White Sox on Sunday to move past Frank Robinson for sole possession of 10th place on MLB's all-time list for extra-base hits, per MLB Stat of the Day on Twitter.
Pujols entered the game just one shy of Robinson (1,186) with 1,185 career extra-base hits, and the 36-year-old slugger didn't waste any time getting started, smashing a two-run homer in the bottom of the first inning off White Sox starting pitcher Jacob Turner.
Although Turner did settle down for the next few frames, Pujols struck again with another two-run homer in his second at-bat, giving the Angels a 4-1 lead in the fourth inning.
The advantage eventually grew to 8-1 in the fifth, with the Angels chasing Turner behind Pujols' pair of homers in addition to a trio of RBI doubles.