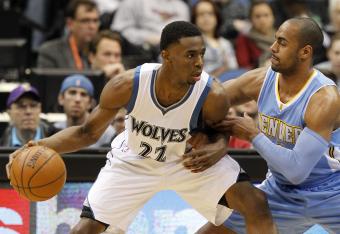 Ann Heisenfelt/Associated Press
Minnesota Timberwolves forward Andrew Wiggins set a franchise rookie record with his sixth consecutive performance of 20 or more points in Friday's 98-84 loss to the Milwaukee Bucks, per Sportsnet Stats.
Though he made just six of his 17 field-goal attempts in the defeat, Wiggins reached an even 20 points with the help of seven successful free throws on nine attempts from the line.
The six-game streak has included three showings of exactly 20 points, with all of those coming in Minnesota's past four contests. Wiggins is averaging 22.2 points over the recent stretch, which began in a Dec. 30 loss to the Utah Jazz.
While still rather impressive, the streak has not led to any Minnesota victories, as the Timberwolves enter Saturday's contest against the San Antonio Spurs in the midst of a 14-game losing streak.