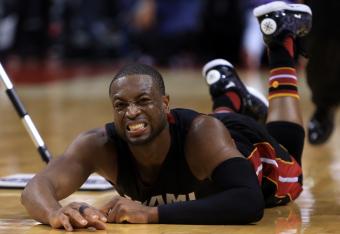 Vaughn Ridley/Getty Images
Miami Heat guard Dwyane Wade moved into the top 15 of the NBA's all-time playoff scoring list, passing Scottie Pippen during Thursday's 96-92 loss to the Toronto Raptors in Game 2 of the Eastern Conference Semifinals, per the Heat's official twitter account.
Wade otherwise had a forgettable performance, finishing with 17 points (on 17 field-goal attempts), six rebounds, three assists and five turnovers in 38 minutes.
Nonetheless he now has 3,655 career playoff points, leaving him 13 ahead of Pippen (3,642) and just eight behind Dallas Mavericks forward Dirk Nowitzki, who sits in 14th place on the all-time list.
Poised to pass Nowitzki during Saturday's Game 3, the 34-year-old Wade might even move into the top 10 by the end of the ongoing playoffs, though he'd likely need his Heat to advance to the Eastern Conference Finals, if not all the way to the NBA Finals.