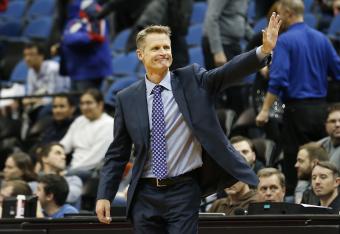 Stacy Bengs/Associated Press
The Golden State Warriors won a 14th consecutive game Wednesday night against the Houston Rockets, making Steve Kerr the first head coach in NBA history to begin his career with a 19-2 record, per the team's official Twitter account.
He broke a tie at 18-2 with Al Cervi, who served as a player-coach for the 1949 Syracuse Nationals, according to Alex Kennedy of Basketball Insiders.
Hired to replace current ESPN analyst Mark Jackson, the 49-year-old Kerr had previously been working as an analyst for TNT, the NBA's other major national broadcasting partner.
Kerr inherited a team that went 51-31 during the 2013-14 regular season before losing to the Los Angeles Clippers in seven games in the opening round of the Western Conference Quarterfinals.