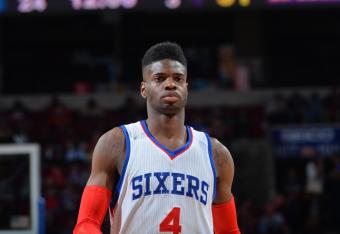 Jesse D. Garrabrant/Getty Images
Philadelphia 76ers forward Nerlens Noel averaged 14.2 points, 11.2 rebounds, 2.4 steals and 2.2 blocks in 17 March games, making him the first player since Hakeem Olajuwon in 1994 to hit all four of those statistical marks in a calendar month while playing 10 or more games, per NBA.com.
As if his month wasn't already incredible enough, the 20-year-old rookie managed to do all of that, despite averaging a modest 33.1 minutes per game for the 76ers, one of the worst teams in the NBA with an 18-57 record.
While it was once assumed that Minnesota Timberwolves forward Andrew Wiggins would take home Rookie of the Year honors, Noel's late charge has given the former Kentucky Wildcat a very strong case of his own.
After sitting out the entire 2013-14 season to let his knee heal from a torn ACL, Noel leads all NBA rookies with 17 double-doubles, while Orlando Magic guard Elfrid Payton is second with just 10, per ESPN Stats & Info.