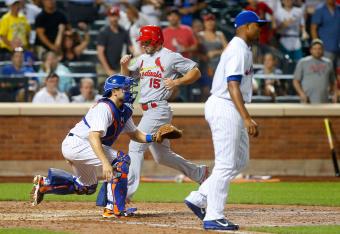 Jim McIsaac/Getty Images
One day after losing his streak of 52 consecutive successful save opportunities, New York Mets closer Jeurys Familia shockingly blew another save in Thursday's 2-1 loss to the Colorado Rockies, per ESPN Stats & Info.
Familia was charged with a loss in addition to the blown save in both games, first turning a 4-3 lead into a 5-4 loss Wednesday night against the St. Louis Cardinals, and then turning a 1-0 advantage into a 2-1 deficit Thursday afternoon against Colorado.
Per ESPN Stats & Info, Familia owns the third-longest streak since saves became an official stat in 1969, trailing only Eric Gagne (84) and Tom Gordon (54), with Jose Valverde (51) just a tick behind.
Arguably the most dominant closer in MLB history, albeit for a rather short period, Gagne had a streak that lasted from 2002 to 2004, helping him earn the National League Cy Young Award in 2003, following a fourth-place finish the previous year.