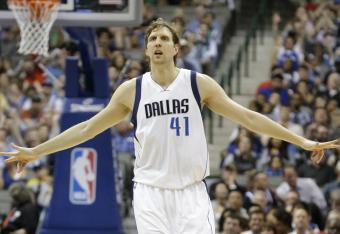 LM Otero/Associated Press
Dallas Mavericks forward Dirk Nowitzki needs nine rebounds in Tuesday's game against the San Antonio Spurs to become the seventh player in NBA history with 27,000 or more points and 10,000 or more rebounds, per Earl K. Sneed of the Mavericks' official website.
Nowitzki, whose wife gave birth to the couple's second child Monday night/Tuesday morning, enters the contest with 27,945 career points and 9,991 rebounds.
Whether Tuesday night or at a later date, the German forward will eventually join an exclusive group that is currently comprised of Kareem Abdul-Jabbar, Wilt Chamberlain, Karl Malone, Shaquille O'Neal, Moses Malone and Elvin Hayes.
Nowitzki will be the first international player on the list, further cementing himself—alongside Hakeem Olajuwon—as one of the two greatest non-U.S.-born players in league history.