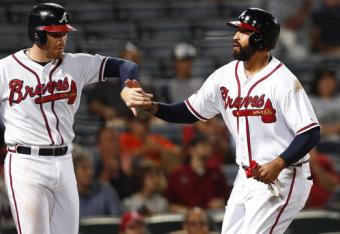 John Bazemore/Associated Press
Atlanta Braves outfielder Matt Kemp recorded the 1,500th hit of his career in Friday's 7-2 loss to the Washington Nationals, doing the honors with his first of two hits for the night, a lead-off double in the bottom of the second inning, per ESPN Stats & Info.
Kemp quickly came around to score the Braves' first run of the game when the next batter, catcher Tyler Flowers, hit an RBI single to center field to cut Washington's early lead to 5-1
The 31-year-old outfielder later added a single in the bottom of the sixth, pushing fellow outfielder Nick Markakis into scoring position, which later allowed Atlanta to chop the lead to 5-2.
Ultimately unable to get anything else going against Nationals ace Max Scherzer, the Braves lost 7-2 to drop to 56-91 for the season.