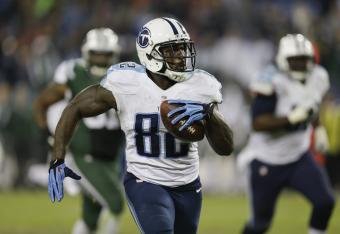 James Kenney/Associated Press
Tennessee Titans tight end Delanie Walker caught four passes for 93 yards in Sunday's 16-11 loss to the New York Jets to break the franchise single-season record for receiving yards by a tight end, per Gary Glenn of the Titans' official website.
Walker has 793 yards so far this season, surpassing Frank Wychek's old record of 768, set back in 1998.
The nine-year veteran went over the mark in a rather unusual manner, as he was credited with 33 yards on the game's final play, which saw the Titans toss a number of laterals in desperation.
Walker was the final player to touch the ball, and he was forced out of bounds at the Jets' 9-yard line after mistakenly failing to make one last lateral.