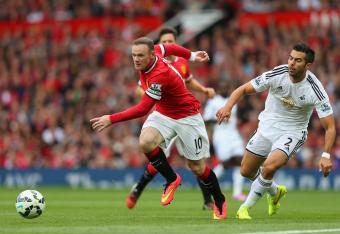 Alex Livesey/Getty Images
With his goal in Saturday's shocking 2-1 loss to Swansea City, Manchester United forward Wayne Rooney matched Dennis Viollet as the club's fourth-leading all-time scorer in league play, per ESPN's Paul Carr.
The goal, Rooney's club-record 159th in the English Premier League, brought Saturday's game even at 1-1 in the 53rd minute. Following a 72nd-minute winner from Swansea City midfielder Gylfi Sigurdsson, Manchester United lost at home on the opening day of league play for the first time since 1972, according to ESPN Stats & Info.
Prior to Saturday's goal, Rooney was tied for fifth on the club's all-time list for league goals, even at 158 with Joe Spence, who played for United from 1919 to 1933. Spence needed 481 league matches to reach his total, while Rooney required just 307 to reach 159.
Viollet tallied his 159 strikes in just 259 league games, the fewest of any player in the top 10 of Man Utd's all-time league goals list. Viollet's .614 goals-per-game are tops on said list, followed by Denis Law's .553, and then Rooney's ranks .518.