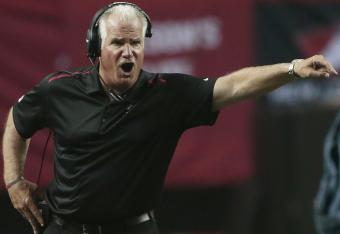 John Bazemore/Associated Press
With Thursday's 56-14 rout of the Tampa Bay Buccaneers, the Atlanta Falcons recorded their second-highest margin of victory in franchise history, according to Pro Football Reference's play index.
The 42-point win, while impressive, fell 13 shy of the 55-point margin recorded in a 62-7 victory over the New Orleans Saints back in 1973.
The Falcons were actually well positioned to set the record Thursday night, as they entered the fourth quarter with a 56-0 lead, only to surrender 14 points in garbage time.
Despite getting outscored by 14 in the final quarter, the Falcons came awfully close to setting some team records.