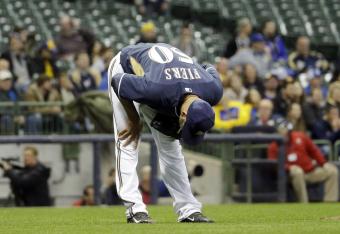 Morry Gash/Associated Press
The Cincinnati Reds and Milwaukee Brewers tied an MLB record during Tuesday's game in Milwaukee by combining for three grand slams, per ESPN Stats & Info.
The feat has only been accomplished on three other occasions, most recently in August 2011, when the Yankees accounted for all three grand slams in a win over the Oakland Athletics.
While the Reds didn't quite manage three grand slams on their own Tuesday night, they did hit five total home runs on the way to a thrilling 16-10 victory.
Cincinnati's grand slams came courtesy of outfielder Jay Bruce and third baseman Todd Frazier, while Milwaukee's came off the bat of second baseman Elian Herrera.