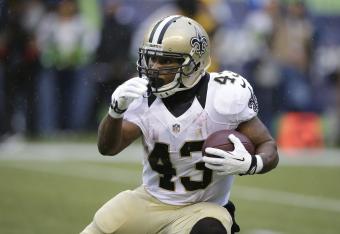 Elaine Thompson/Associated Press
Following a highly successful three-year stint with the New Orleans Saints, running back Darren Sproles was traded to the Philadelphia Eagles on Thursday in exchange for a fifth-round draft pick, per CSN Philadelphia's Geoff Mosher.
Known primarily for his work as a receiver, Sproles has 2,998 receiving yards since the beginning of the 2009 campaign, easily ranking first among all NFL running backs over the last five seasons, per ESPN Stats & Info.
Interestingly enough, his new teammate LeSean McCoy ranks second, with 2,127 receiving yards since Week 1 of 2009.
McCoy was a rookie in 2009 and started just four games that season, but he has still topped 300 receiving yards in each of his five NFL campaigns, maxing out at 592 yards (on 78 receptions) in 2010. Sproles, meanwhile, was already in his fourth season by 2009 and has produced at least 497 receiving yards in each of the last five years.