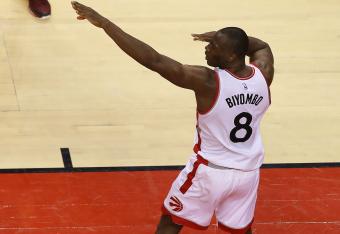 Dave Sandford/Getty Images
Toronto Raptors center Bismack Biyombo grabbed a franchise-record 26 rebounds during Saturday's 99-84 Game 3 victory against the Cleveland Cavaliers, joining Hakeem Olajuwon (twice), Tim Duncan and Dwight Howard as the only players to record 25 or more boards in a single playoff game—since 1984—per Elias Sports Bureau (via NBA.com/stats).
Those 26 rebounds bested the previous Raptors record of 25, set earlier this season by Biyombo himself in a game against the Indiana Pacers.
The old Raptors record for single-game postseason rebounds was held by fellow center Jonas Valanciunas, who grabbed 19 rebounds in a first-round game against the Pacers a couple of weeks ago.
Interestingly, Biyombo grabbed 20 of his rebounds before he scored a single point.