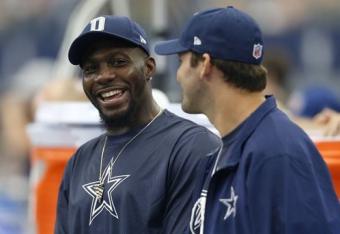 Brandon Wade/Associated Press
Dallas Cowboys quarterback Tony Romo and wide receiver Dez Bryant connected for their 50th career touchdown in regular-season play, breaking the old franchise record for a quarterback-receiver combo set by Troy Aikman and Michael Irvin (49), per Elias Sports Bureau (h/t ESPN Stats & Info).
Facing a 2nd-and-goal from the Miami 16-yard line on the first play of the fourth quarter, Romo perfectly lofted a pass to a double-covered Bryant, who managed to gain separation from both of the defenders watching him.
The score broke a 14-14 tie in a game the Cowboys would eventually win 24-14 to put an end to their seven-game losing streak.
It was Romo's fifth passing touchdown of the season and Bryant's second receiving score of the year, as the former has only played three games and the latter just five.