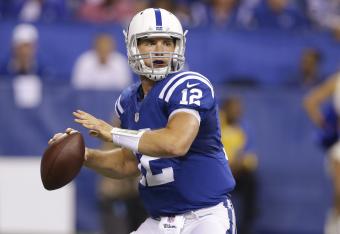 Michael Conroy/Associated Press
Indianapolis Colts quarterback Andrew Luck recorded his 50th career touchdown pass on his second of three scoring strikes in Monday's 30-27 loss to the Philadelphia Eagles.
In a game that saw the Colts go run-heavy while jumping out to a 17-6 lead, Luck still managed the trio of scoring passes despite completing only 20 of his 34 attempts for just 172 yards.
No. 49 came on a one-yard pass to running back Ahmad Bradshaw with the Colts facing a 4th-and-goal from the 1-yard line in the first quarter. Luck then hit the milestone in the final two minutes of the second quarter, connecting with third-string tight end Jack Doyle on a two-yard scoring strike off a play-action fake.
No. 50 moved Luck into fourth place on the Colts' all-time list for passing touchdowns, one ahead of current San Francisco 49ers coach Jim Harbaugh (49).