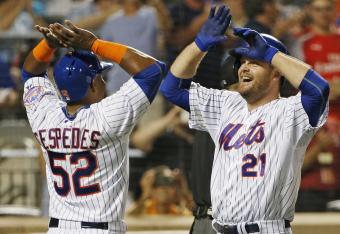 Kathy Willens/Associated Press
New York Mets first baseman Lucas Duda stayed red-hot in Sunday's 5-2 win over the Washington Nationals, becoming the first player in franchise history to hit nine home runs in the span of eight games, per Elias Sports Bureau (via ESPN Stats & Info).
Coming off a two-homer performance in Saturday's 3-2 victory, Duda hit a two-run homer off Nationals pitcher Jordan Zimmermann in the third inning of Sunday's game, stretching the Mets' lead to 5-1 as they looked to close out a sweep.
The long ball capped off a three-homer third inning in which the Mets scored all five of their runs, with outfielder Curtis Granderson and second baseman Daniel Murphy also going deep.
Prior to Sunday, the Mets last hit three homers in an inning back in June 2007 when Carlos Delgado, David Wright and Paul Lo Duca went back-to-back-to-back in a game against the Philadelphia Phillies, per ESPN.com's Adam Rubin.