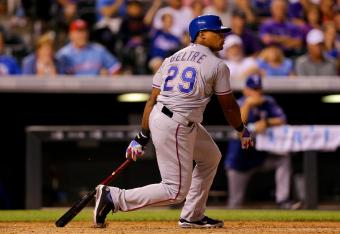 Justin Edmonds/Getty Images
Texas Rangers third baseman Adrian Beltre hit the 544th double of his career in Monday's 8-7 loss to the Colorado Rockies, tying Derek Jeter for 29th place on the all-time doubles list, per MLB Milestones.
The two-bagger came as part of a three-hit performance, with Beltre also adding two RBI in the narrow defeat.
Although he hasn't been his usual self at the plate this season, the 36-year-old third basemen has fared somewhat better of late, recording 12 hits over 33 at-bats (.364 batting average) in his last eight games.
The hot streak has bumped his batting average for the season to a respectable .261, but his on-base percentage (.293) and slugging percentage (.400) are still far below what the Rangers have come to expect.