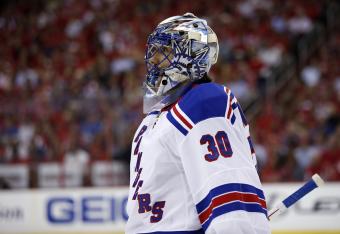 Alex Brandon/Associated Press
New York Rangers goaltender Henrik Lundqvist made the 100th start of his playoff career in Monday's 1-0 loss to the Washington Capitals, becoming the eighth goalie in NHL history to log 100 playoff appearances for one team, per Elias Sports Bureau.
The 33-year-old Swede has started all but one of the Rangers' 101 playoff games since he made his NHL debut in 2005-06, including each of the last 99 contests.
The previous goalie to start a playoff game for the Rangers was Kevin Weekes, who got the nod in Game 2 of a 2005-06 Eastern Conference Quarterfinals series against the New Jersey Devils, after Lundqvist allowed six goals while making his playoff debut in Game 1.
The Rangers went back to the then-rookie Lundqvist for Games 3 and 4 of that series, but they were ultimately unable to avoid a sweep at the hands of their local rivals.