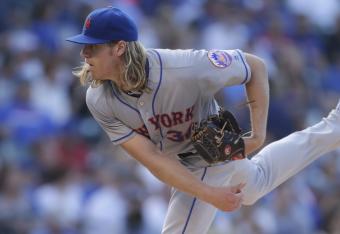 Mike McGinnis/Getty Images
Making just the 43rd appearance and 42nd start of his young MLB career, New York Mets pitcher Noah Syndergaard recorded his 300th career strikeout during Tuesday's 2-1 win over the Chicago Cubs, becoming the third-fastest active pitcher (in terms of games played) to reach the 300-K plateau, per ESPN Stats & Info.
Despite having some recent issues with arm fatigue leading up to the All-Star break, Syndergaard was apparently unfazed by a tough road matchup against Cubs ace Jake Arrieta, a reigning Cy Young Award winner who has the backing of a lineup that averages more than five runs per game.
The 23-year-old righty proceeded to strike out eight batters while allowing only one run (unearned) on seven hits and two walks, though he did need 105 pitches to make it through just 5.2 innings—which is perfectly excusable when facing a notoriously patient Cubs lineup that leads the majors in walk rate (10.7 percent).
While neither starting pitcher factored into the decision, Syndergaard still owns an impressive 9-4 record in 19 appearances (18 starts) this season, with a 2.43 ERA, 1.10 WHIP and ridiculous 136-to-20 strikeout-to-walk ratio through 111.1 innings.