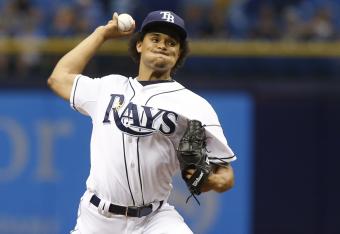 Brian Blanco/Getty Images
Tampa Bay Rays starting pitcher Chris Archer tied a franchise record Wednesday against the Minnesota Twins by recording his ninth double-digit strikeout game of the season, per Sportsnet Stats.
The mark was previously set last season by David Price, who has since pitched for both the Detroit Tigers and Toronto Blue Jays.
Unfortunately for the Rays, Archer's 12-strikeout effort came in a 5-3 loss, with the ace allowing four runs on nine hits and a walk to drop the club's record to 62-64 and his own record to 11-10. Despite the loss, the 26-year-old remains among the league's top pitchers and has a legitimate shot at the AL Cy Young Award.
Archer represents one of the few bright spots for the 2015 Rays, who have fallen out of playoff contention over the last couple of weeks. After trading away Price in July 2014, the team needed another pitcher to step up and grab the ace role, and Archer has more than capably filled that void.