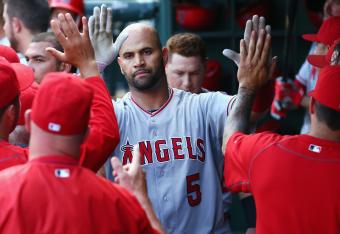 Tom Pennington/Getty Images
Los Angeles Angels first baseman Albert Pujols hit his 25th home run of the season during Sunday's 12-6 win over the Texas Rangers, becoming the 10th player in MLB history to record 25 or more home runs in 14 seasons, according to Elias Sports Bureau (via ESPN.com). Lee Sinins of Complete Baseball Encyclopedia notes that Pujols' 14 seasons with at least 25 homers is tied for the sixth-most ever.
Enjoying a surprising resurgence over the past couple months, the 35-year-old Pujols has hit 22 of his American League-leading 25 homers since the beginning of May, with 20 of them coming since May 15.
He needs just three more long balls to match last season's total of 28, which he accumulated across 159 games and 633 at-bats.
Although mostly productive, Pujols didn't quite live up to expectations in his first three seasons with the Angels, putting up 30 (2012), 17 (2013) and 28 home runs (2014). He's on pace to hit 49 this season, which would tie his previous career-best mark set in 2006.