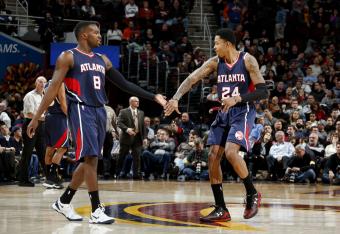 Gregory Shamus/Getty Images
The Atlanta Hawks made nine three-point shots during the second quarter of Wednesday's 127-98 road win over the Cleveland Cavaliers, setting a new franchise record for most three-pointers made in a single quarter, per the Hawks' official twitter account.
Down 34-26 after the first 12 minutes, Atlanta outscored Cleveland 39-26 in the second quarter to take a surprising 65-60 lead into the half.
The second-quarter charge was led by reserve guard Shelvin Mack, who took on an expanded role with starting point guard Jeff Teague sidelined by a hamstring injury.
Mack made each of his five three-point attempts during the record-setting quarter and also assisted on one of Atlanta's other four treys. In addition to Macks's handful of three-pointers, the Hawks got two from forward DeMarre Carroll and one apiece from guard Kent Bazemore and forward Mike Scott.