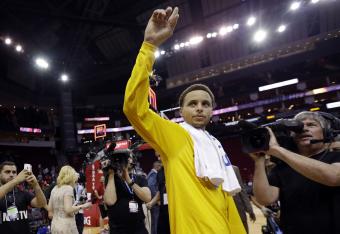 David J. Phillip/Associated Press
Golden State Warriors guard Stephen Curry made his 59th three-point shot of the 2015 playoffs during Saturday's 115-80 Game 3 win over the Houston Rockets. With that shot, he broke Reggie Miller's record of 58 three-pointers made during a single postseason (2000), per the NBA's official Twitter account.
Curry entered the contest with 57 three-pointers through his first 12 games of the playoffs, then proceeded to make seven of his nine attempts from beyond the arc, giving him a remarkable 64 treys through just 13 games.
His average of 4.9 per game is far beyond what Miller did in 2000, as Miller needed 22 games to pile up 58 three-pointers (2.6 per game).
Miller made 39.5 percent of his three-point attempts in the playoffs that year, leading the Indiana Pacers to an eventual NBA Finals loss to the Los Angeles Lakers.