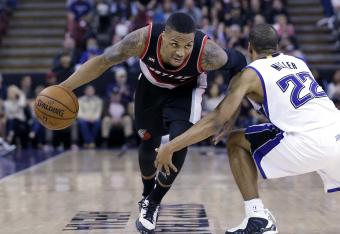 Rich Pedroncelli/Associated Press
Portland Trail Blazers guard Damian Lillard hit his 546th career three-pointer during Sunday's 110-99 win over the Sacramento Kings, breaking Klay Thompson's NBA record for most three-pointers made through the first three seasons of a career, per Casey Holdahl of the Blazers' official website.
The Weber State product hit the record-breaking trey with just over eight minutes remaining in the fourth quarter, on his way to a 31-point performance in which he made three of his five shots from beyond the arc.
With 24 games remaining in Portland's season, Lillard's 546 career three-pointers best the 545 accumulated by Thompson from 2011-12 to 2013-14.
Of course, Thompson's rookie season was shortened to 66 games by a lockout, but good health allowed him to log 229 appearances through the first three years of his career, falling just one game shy of the maximum.