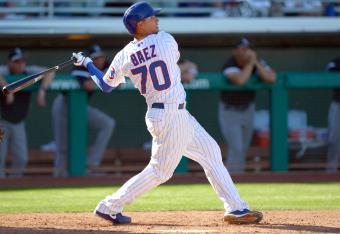 Jake Roth-USA TODAY Sports
The Chicago Cubs' collection of top prospects is among the best in baseball, with four players who will rank in next week's top 50 prospects update and a few more who would land in the top 100.
Leading the pack is shortstop Javier Baez, who is arguably the most exciting offensive prospect in the game. Last season, the now-21-year-old posted a .920 OPS with 37 home runs and 20 stolen bases in 537 plate appearances between High-A Daytona and Double-A Tennessee.
Alongside Baez on the Cubs' future infield is third baseman Kris Bryant, the No. 2 overall draft pick in 2013, who possesses the type of obscene raw power needed to hit 35-plus home runs at the highest level.
The organization also houses a pair of potential All-Star outfielders in Albert Almora and Jorge Soler. Though they collectively lack a game of experience at the Double-A level, both players have the tools to move quickly through the minor leagues and should do so in the upcoming season.