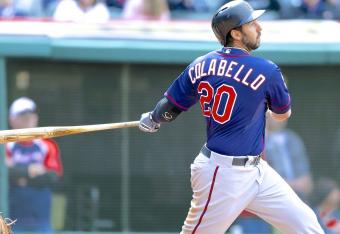 AP Images
Every season features players who take nontraditional, roundabout paths to unexpected success in the major leagues.
Last year it was the Atlanta Braves' Evan Gattis. This year, it's Chris Colabello of the Minnesota Twins.
Through the first month of the season, the 30-year-old Colabello is batting .308/.351/.505 with nine doubles, three home runs and 27 RBI.
Colabello went undrafted out of Massachusetts' Assumption College and signed a contract in 2005 with the Worcester Tornadoes of the Can-Am Independent League. Other than a half-season stint with Nashua (another team in the league), Colabello spent the next seven years with Worcester and batted .317/.390/.514 with 166 doubles, 86 home runs and 420 RBI in 583 games.