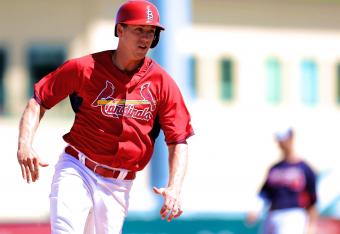 Getty Images
The St. Louis Cardinals once again face the enviable problem of having too much depth in the minor leagues.
Last year it was too many young arms; this year, it's outfielders.
The Cardinals' Triple-A Memphis roster features the best and most exciting outfield in the minor leagues, with top-ranked prospects Oscar Taveras and Stephen Piscotty, as well as offseason acquisition Randal Grichuk. To make matters more complicated, all three players are off to great starts at Memphis.
Speaking this spring about the Cardinals' collection of young outfielders, manager Mike Matheny acknowledged that finding playing time for each guy would be a challenge.