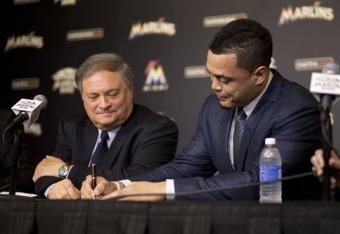 J Pat Carter/Associated Press
Few teams have been as busy this offseason as the Miami Marlins.
The decision to extend Giancarlo Stanton with a historic 13-year, $325 million contract thrust the Marlins into win-now mode, and it wasn't long before the club began to aggressively retool its big league roster around the 25-year-old slugger.
However, building a strong supporting cast around Stanton meant blowing up the farm system, and so the Marlins were forced to part with top prospects.
First, they traded left-hander Andrew Heaney, the organization's first-round draft pick in 2012, along with Enrique Hernandez and two other players to the Dodgers for Dee Gordon. One day later, they shipped right-hander Anthony DeSclafani to the Reds in a deal for Mat Latos.