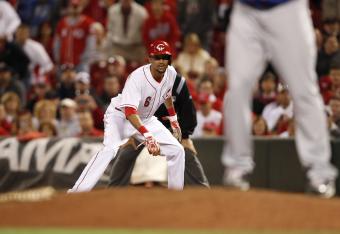 Is Billy Hamilton ready to take over as the Reds' center fielder in 2014?
Frank Victores-USA TODAY Sports
The Cincinnati Reds knew that they may only get one season of free-agent outfielder Shin-Soo Choo when they traded for him last December.
The acquisition also enabled the organization to take a more conservative approach in its development of prospect Billy Hamilton.
Rather than rushing him to the major leagues to open the 2013 season after only a half-season at the Double-A level in 2012, signing Choo provided the Reds with the roster flexibility to keep Hamilton in Triple-A for a majority of the year.
However, with Choo—ranked as the No. 3 free agent by MLB Trade Rumors—seeking more than the seven-year, $126 million contract that Jayson Werth received from the Nationals before the 2011 season, according to Jerry Crasnick of ESPN.com (via Twitter), he may be out of the Reds' price range.