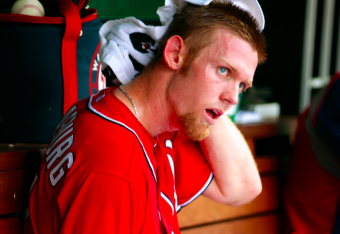 AP Images
Things were looking up for Stephen Strasburg headed into his start on Friday night against the Atlanta Braves. At least that's how it seemed.
After posting a 3.18 ERA with 44 strikeouts over 39.2 innings in July, Strasburg kicked off August with his best start of the season, striking out 10 batters and scattering three hits over seven shutout innings versus the Phillies.
And considering he was scheduled to face a Braves squad mired in an eight-game losing streak, all signs pointed to the 26-year-old right-hander having another strong outing.
However, Strasburg was anything but dominant Friday night, allowing seven runs on seven hits in five innings. The Nats mounted a valiant comeback late in the game, but ultimately fell to the Braves 7-6.