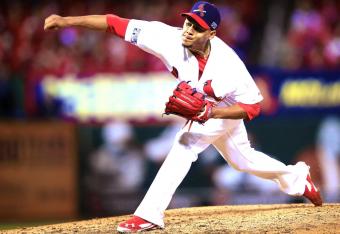 Getty Images
It wasn't long after the end of the 2014 season that general manager John Mozeliak and manager Mike Matheny informed Carlos Martinez that he'd report to spring training as a starter in 2015.
It was the same message Mozeliak had for the 23-year-old right-hander after the 2013 season.
But after losing to Joe Kelly last spring, Martinez seems to have an inside track toward the final spot in the team's Opening Day rotation this time around, a spot made available through the trades of Kelly and Shelby Miller.
Armed with a triple-digit fastball and a deep arsenal of swing-and-miss offerings, Martinez has emerged as one of the more dominant late-inning relievers in baseball, making 70 appearances out of the Cardinals' bullpen since arriving on the scene in May 2013.