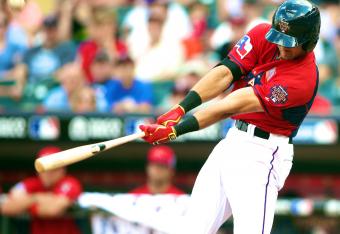 USA today
The SiriusXM All-Star Futures Game on Sunday night featured 50 of baseball's brightest young talents, but it was Texas Rangers prospect Joey Gallo who stole the show.
Serving as the designated hitter for the U.S. squad, Gallo, 20, provided the decisive blow in his team's 3-2 victory, as the slugger launched a monstrous, no-doubt, go-ahead two-run home run onto the concourse in right-center field with one out in the sixth inning.
Typically, a player will say he was simply trying to make good contact or hit the ball hard up the middle. But Gallo didn't beat around the bush with his approach during the at-bat.
"After the first two at-bats I just wanted to make contact and not embarrass myself too much by striking out," he said, per Josh Norris of Baseball America. "I got a 2-0 pitch and was just like, 'I'm going to try to hit this one out.'"