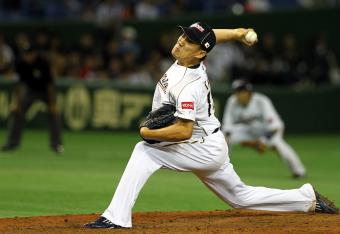 Japanese right-hander Masahiro Tanaka can only sign with a major league team this offseason if a new posting system is agreed upon.
Koji Watanabe/Getty Images
Major League Baseball and Japan's Nippon Professional Baseball may be making progress towards an agreement on a new posting system.
Back in October, negotiations were reportedly coming along, according to Joel Sherman of the New York Post, and both sides seemed optimistic that a deal would be reached by Nov. 1.
But that never happened.
MLB proposed an amended posting system where a Japanese team would receive a fee equal to the midpoint between the top two bids. However, by the middle of November the league was tired of waiting on Japanese baseball officials to push forward with the initiative, according to Sportsnet's Shi Davidi (via Twitter), and talks hit a snag.
Throughout deliberations, Japanese officials have made it clear they want their players to have a say in the matter. However, at the same time, the teams also want as much money as possible in return for their players before losing them to free agency in NPB.