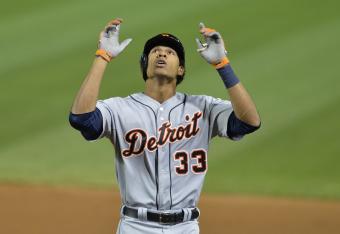 USA TODAY Sports
The Detroit Tigers have spent the last few years putting all their resources into the MLB club and ignoring the farm system. Therefore, while they're winning at the highest level, the organization's lack of impact talent and depth on the farm puts a lot of pressure on its big league roster to stay healthy.
It certainly didn't help the state of Detroit's system that it traded arguably its top three prospects before the July non-waiver deadline, with right-handers Jake Thompson and Corey Knebel going to Texas in the Joakim Soria deal, and highly touted 19-year-old shortstop Willy Adames going to Tampa Bay as part of the three-team trade for David Price.
The Tigers have continued to ship off prospects in trades this offseason, trading second baseman Devon Travis to the Blue Jays, Robbie Ray and Domingo Leyba to the Diamondbacks, and finally, right-hander Jonathan Crawford (and Eugenio Suarez) to the Reds.
However, pitching prospects Kevin Ziomek and Austin Kubitza, the team's respective second- and fourth-round picks in 2013, are still in the picture, with both coming off equally successful seasons as part of Low-A West Michigan's starting rotation.