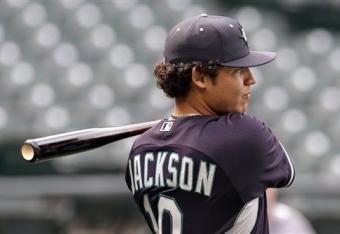 Elaine Thompson/Associated Press
For a system that graduated several key prospects in 2014, the Seattle Mariners still have plenty of talent left on the farm.
D.J. Peterson, the No. 13 overall pick in 2013, raked last season between the High-A and Double-A levels, eclipsing 30 home runs in his first full professional campaign. Outfielder Austin Wilson, the Mariners' second-round pick following Peterson, showed off similar raw power during his time at Low-A Clinton, as did 2013 third-rounder Tyler O'Neill.
The team's international crop of talent took a step forward, both individually and collectively, as outfielder Gabby Guerrero flashed his tools and upside in the California League, while 21-year-old shortstop Ketel Marte enjoyed a breakout campaign between the Double-A and Triple-A levels.
The Mariners also added a pair of high school power hitters in the 2014 draft, selecting outfielder Alex Jackson in the first round (No. 6 overall) and then grabbing outfielder Gareth Morgan in the second.