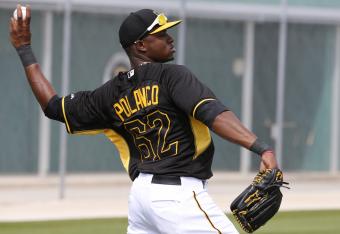 Gene J. Puskar
Gregory Polanco proved during spring training that he's nearly ready for an audition in the major leagues, as the 22-year-old posted an .804 OPS with three extra-base hits while appearing in 10 games.
And with his red-hot start this season at Triple-A Indianapolis, it's only a matter of time until the toolsy outfielder gets the call.
Polanco seemingly emerged from nowhere to turn in one of the top breakout performances of the 2012 season. Playing in 116 games for Low-A West Virginia in the South Atlantic League, Polanco batted an impressive .325/.388/.522 with 16 home runs and 40 stolen bases in 485 plate appearances.
He followed the eye-opening full-season debut with an even better showing in 2013, as the toolsy outfielder excelled at three levels and finished the year in Triple-A. Between all stops, Polanco batted .285/.356/.434 with 26 doubles, 16 home runs, 85 RBI and 40 stolen bases in 485 plate appearances.