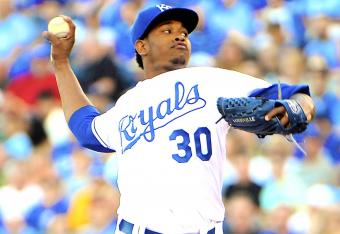 USA Today
The Kansas City Royals have their sights set on their first postseason berth since 1985, as the team holds a 1.5-game lead in the American League Central over the Detroit Tigers entering Thursday.
However, for the Royals to fend off the Tigers and lock down a playoff spot, the team will need rookie fireballer Yordano Ventura to further his success down the stretch.
Ventura opened eyes with his outstanding start to the season, as the flame-throwing right-hander registered a 2.40 ERA with 53 strikeouts over 48.2 innings (eight starts) and held opposing hitters to a .213 batting average.
But Ventura's performance regressed toward the end of May, possibly due to a minor elbow injury that led to severely decreased velocity and ultimately an early exit from his May 26 start. Though Ventura was able to avoid the disabled list, he still didn't appear to be pitching at 100 percent in subsequent outings. His numbers from June 5 through July 20 tell a similar story, as the 22-year-old posted a respectable 3.75 ERA over 50.1 innings but struck out only 29 batters compared to 16 walks during that span.