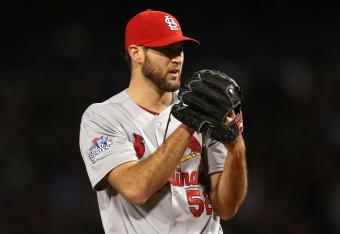 Was Michael Wacha's Game 2 start one of the best ever by a rookie?
(Photo by Rob Carr/Getty Images)
22-year-old Michael Wacha became the 17th-youngest pitcher to win a World Series game when he defeated the Boston Red Sox in Game 2 on Thursday night.
The rookie was still highly effective, despite lacking the outstanding command he demonstrated in his previous three postseason starts; he ultimately allowed two runs on three hits and four walks with five strikeouts over seven impressive innings.
In the aftermath of Wacha's gem against the Dodgers in Game 2 of the NLCS, I wrote that it ranked as the 10th-best performance by a rookie pitcher in postseason history. However, with the right-hander now pitching in the Fall Classic, I figured I'd now take a more specific look at rookie performances in the World Series.
Once again, Win Probability Average (WPA) was used to rank each player's single-game performance. This time, however, I decided to include hitters. And to avoid skewed results from late-inning relievers and pinch hitters, I narrowed the focus to only position players who started the game and pitchers who logged at least six innings.