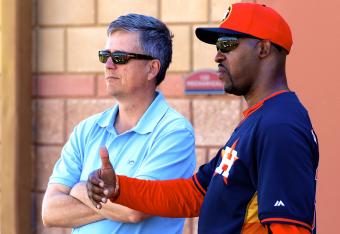 Getty Images
The signing deadline for 2014 draft picks officially passed Friday at 5 p.m. ET, and the Houston Astros were not able to sign No. 1 overall pick Brady Aiken, according Jim Callis of MLB.com (via Twitter). He also reports that the Astros failed to sign fifth-rounder Jacob Nix and 21st-rounder Mac Marshall.
It wasn't long after the draft, two days to be exact, that Aiken reportedly agreed to a $6.5 million bonus with the Astros. On June 23, the Cathedral Catholic High (San Diego) left-hander arrived in Houston to make his signing official, which obviously didn't happen.
After two weeks of speculation as to why Aiken was yet to sign, Jon Heyman of CBS Sports reported that the Astros saw something they didn't like in a post-draft MRI of the 17-year-old's left elbow. As a result, the team immediately reduced its offer to Aiken from $6.5 to $5 million, well below the $7.9 million slot value for the No. 1 overall pick.
However, it wasn't until earlier this week that we learned the specifics of Aiken's elbow issue. According to Evan Drellich of the Houston Chronicle: