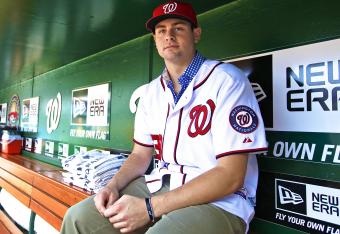 AP Images
When a teenage pitcher is ranked among the sport's top prospects prior to his full-season debut, it's a pretty big deal. After all, with a young arm, any number of things might happen in the coming years that could derail his development and affect his future projection.
Yet, despite the inherent risk and volatility tied to high-risk/reward arms, the entire baseball industry seemed to be all-in on Lucas Giolito entering the season. Here at Prospect Pipeline, we ranked Giolito as the No. 15 prospect for 2014.
Giolito, 19, was viewed as a candidate to go No. 1 overall in the 2012 draft after the right-hander lit up radar guns with his fastball and dropped jaws with his curveball early in the spring for Harvard-Westlake School (Calif.).
Unfortunately, Giolito suffered a strained ligament in his right elbow roughly two months into the season and was shut down indefinitely. He avoided surgery, but the injury ultimately cost Giolito the remainder of his high school campaign and the chance to be the first prep right-hander drafted No. 1 overall.