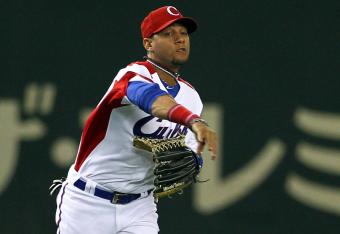 Koji Watanabe/Getty Images
The Los Angeles Dodgers and Cuban shortstop Erisbel Arruebarruena have reportedly agreed to terms, according to Ken Gurnick of MLB.com. Terms of the deal were not disclosed in Gurnick's report because "there still are physical exams and possible legal and immigration issues to resolve."
Arruebarruena is the latest in a string of international signings by the Dodgers, having signed no fewer than 53 players (if you include Arruebarruena) from foreign countries in the last 13 months, according to Mark Saxon of ESPN Los Angeles.
Signing with a high-profile franchise like the Dodgers immediately puts Arruebarruena on the prospect radar, but does the talent match the inevitable hype?
Let's examine Arruebarruena's raw tools and upside to find some answers, shall we?