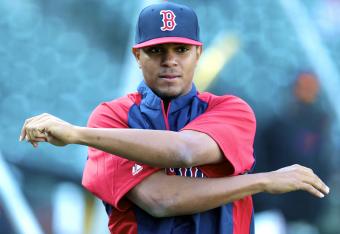 It's been a busy week for some of baseball's top prospects.
The Red Sox announced on Sunday night that they would promote top prospect Xander Bogaerts from Triple-A Pawtucket. And after taking in the team's series opener against the Giants on Monday night from the dugout, the 20-year-old made his highly awaited debut on Tuesday.
Starting the game at shortstop and batting seventh, Bogaerts went 0-for-3 with a strikeout. The Red Sox didn't call him up to ride the pine, though, so expect him to see consistent playing time at both shortstop and third base throughout the rest of the season.
On the other side of the excitement spectrum is St. Louis Cardinals outfield prospect Oscar Taveras, who, after battling an ankle injury for most of the year, underwent season-ending surgery on Wednesday that will have him in a walking boot for the next eight weeks.