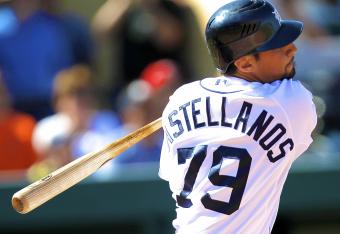 In the flurry of September call-ups that took place over the weekend, the most notable came from Detroit, with the Tigers promoting top prospect Nick Castellanos from Triple-A Toledo for the stretch run.
Castellanos actually had his MLB debut on Sunday in Detroit's 4-0 loss against the Cleveland Indians, pinch hitting for Don Kelly in the seventh inning and playing left field the rest of the game. It was an uneventful start, as he flew out to right field and grounded out to short in his two at-bats.
But don't let that fool you because the future is incredibly bright for the 21-year-old Castellanos, who was taken by the Tigers with the 44th pick in the 2010 draft out of Archbishop McCarthy High School in Florida.
Rather than just tell you Castellanos has the potential to be a star hitter in the middle of Detroit's lineup for the next decade, we are going to give you an in-depth look at what makes him so special.