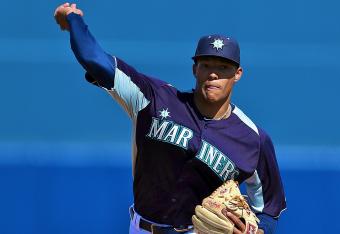 This week's Fantasy Baseball Prospect Report was made in Taijuan.
As in Taijuan Walker, the Seattle Mariners' 21-year-old right-hander and one of the best pitching prospects in the game right now.
With the Mariners having designated veteran Aaron Harang for assignment this week, per Ryan Divish of The News Tribune, Walker, who was a 2010 first-round pick, is getting called up in time to make his major league debut on Friday, according to Joshua Mayers of The Seattle Times.
The M's are doing a good job of breaking in Walker slowly, as he'll face the lowly Houston Astros. That makes for quite the fantasy-friendly debut for the phenom. If he's available in your league, pick him up for a spin.