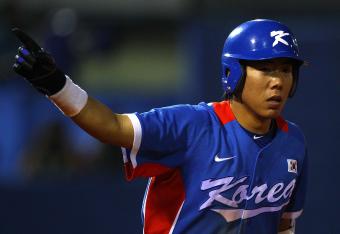 Richard Heathcote/Getty Images
International free agents are receiving serious interest in the aftermath of Major League Baseball's winter meetings, with teams looking for relatively cheap and creative options to plug holes on their rosters.
Cuban infielder Yoan Moncada, 19, is expected to be the most coveted international player this offseason, though that could change depending on when he's officially cleared to sign. Meanwhile, power-hitting shortstop Jung-Ho Kang was posted Monday by the Nexen Heroes of the Korea Baseball Organization, and he could potentially be a fit for a variety of teams.
However, those are just a few international players drawing interest from major league teams.
Here's an updated look at projected landing spots for five international players currently pursuing a major league contract, including Japanese right-hander Kenta Maeda, who's yet to be posted but worth discussing given his potential impact on the open market.