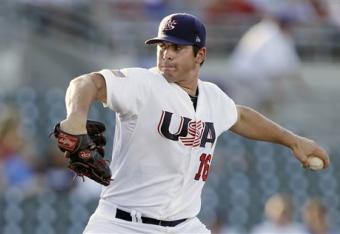 Charlie Neibergall/Associated Press
The Chicago White Sox may not have many big names on the farm beyond Carlos Rodon and Tim Anderson, the team's first-round draft picks from the last two years, respectively, but they've quietly developed a deep system featuring a combination of high-probability and high-ceiling prospects.
Right-hander Tyler Danish, 20, likely projects better as a reliever due to a sidearm delivery, but the uniqueness of his delivery and stuff allowed him to dominate older hitters this season between Low- and High-A. Right-hander Francellis Montas missed part of the season with a knee injury, but he sits in the upper 90s with his fastball and is incredibly difficult to barrel.
Outfielder Courtney Hawkins, the No. 13 overall pick in 2012, rebounded well from an overaggressive assignment to High-A last year with a more consistent performance in his second tour of the Carolina League. That being said, strikeouts are still an issue and probably always will be.
Third baseman Trey Michalczewski flew under the radar with a solid full-season debut, and the 19-year-old switch-hitting third baseman is a candidate for a breakout performance in 2014.