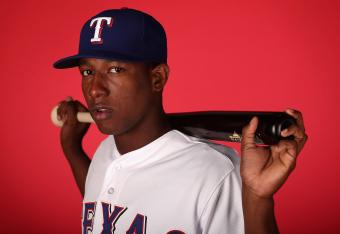 Was a Jurickson Profar for Oscar Taveras trade actually discussed? We may never know.
Christian Petersen/Getty Images
Due to the St. Louis Cardinals and Texas Rangers need for a shortstop and outfielder, respectively, it was only a matter of time until the idea of a Jurickson Profar for Oscar Taveras swap worked its way into the baseball rumor mill.
Although the origin of the rumor is still a mystery, ESPN.com's Peter Gammons apparently heard enough about the proposed deal to shoot it down via Twitter.
While such a trade is certainly intriguing, it's also highly unlikely regardless of each team's needs for the upcoming season.
However, it did get me thinking about the idea of straight-up, one-for-one prospect swaps. More specifically, which organizations might benefit from that particular type of trade.