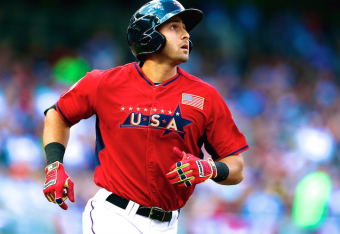 Elsa/Getty Images
FRISCO, Texas — Joey Gallo, the Texas Rangers' hulky Double-A third baseman, described leading the minor leagues in home runs last season as "kind of a one-of-kind thing," then shrugged indifferently at the prospect of repeating the feat this year to become the first to do so since 1972-73 (note: Kevin Witt played in Japan in 2005, leading the minors in homers in 2004 and 2006).
"It doesn't really matter to me," the 6'5", 230-pounder said one afternoon last week while seated in the Frisco RoughRiders' dugout. Entering Wednesday's play, the 20-year-old has belted 38 homers between Frisco and Myrtle Beach of the High-A Carolina League. That is good for just one behind Kris Bryant, third baseman for the Chicago Cubs' Triple-A Iowa club in the Pacific Coast League. Bryant hit No. 39 on Tuesday evening.
Gallo said his sole interest in the race is competing with a familiar face from back home in Las Vegas. The 22-year-old Bryant played alongside Gallo's older brother while growing up, and their fathers work together operating a baseball instructional school.
Gallo would become the first to go back to back with minor league home run crowns since Jim Fuller of the Baltimore Orioles organization, and Fuller played at Triple-A and Double-A those years. It's difficult to say that would earn more fame than hitting a promotional Chevy truck during batting practice before this year's All-Star Futures Game at Target Field in Minneapolis.