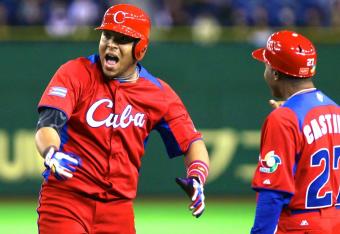 Getty Images
"Who would you rather have: Yasmany Tomas or Yoan Moncada?" has become a popular question over the last month, mostly because so little is known about them outside the industry, but also because they are two completely different types of players at different developmental stages in their respective careers.
Tomas, who recently signed a six-year, $68.5 million contract with the Arizona Diamondbacks, is more of a known commodity after playing parts of five seasons in Cuba's Serie Nacional and starring in international tournaments such as the World Baseball Classic.
The 24-year-old outfielder has been glorified for his sheer strength and prodigious power and is expected to make an immediate impact hitting in the middle of Arizona's lineup.
And then there's Moncada, a 19-year-old infielder who has emerged as one of the more hyped prospects in recent memory and seems poised to command a record-setting signing bonus for an international amateur.