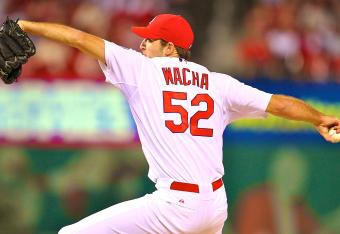 The St. Louis Cardinals' torrid offense deservedly received most of the credit for the team's success this season. However, it's doubtful they would have finished with the best record in the National League without the contributions and overall consistency of their rookie pitchers.
Using 12 different rookies during the regular season, the team's collection of promising young arms posted a 36-22 record with a 3.17 ERA, 8.79 K/9 and 2.99 BB/9 over 553.2 innings.
Among those rookies are homegrown right-handers Shelby Miller and Michael Wacha, both of whom ranked as top-50 overall prospects heading into the season.
After reaching the major leagues as a September call-up in 2012, Miller was a fixture in the Cardinals starting rotation this season, making 31 starts and posting the 10th-best ERA (3.06) in the National League. Wacha, meanwhile, was a midseason call-up that bounced between starting and relieving before joining the rotation full time in September. And in the final month of the season, they combined to go 5-1 (10 starts) with a 2.23 ERA over 60.2 innings.