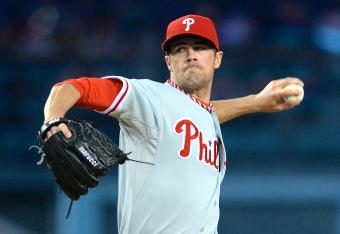 USA Today
Cole Hamels isn't known for turning in strong season debuts. Since 2009, the Phillies left-hander is 1-4 with a 9.55 ERA in 21.2 innings.
On Wednesday night, Hamels took the mound for the first time this season after spending over two months on the shelf with tendonitis in his left shoulder, and he did so with a chance to ensure a series win against the Los Angeles Dodgers.
Earlier in the week, manager Ryne Sandberg mentioned on the WIP Morning Show that Hamels would have no restrictions in his season debut (via CBS Philly):
While Hamels left the game after six innings with the Phillies trailing, 2-1, he did end his string of lackluster debuts by allowing two earned runs on four hits with five strikeouts and one walk. More importantly, the 30-year-old southpaw proved that he's healthy and ready for another strong campaign.