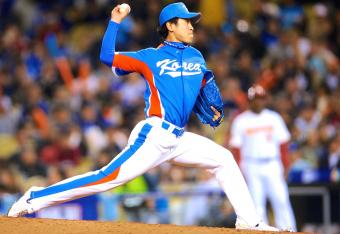 Getty Images
The sweepstakes for South Korean pitcher Suk-min Yoon is heating up.
Earlier in the week, Sang-Soo Kwon of JoongAng Daily reported that as many as five teams have shown interest in the 27-year-old right-hander. However, according to T.R. Sullivan of MLB.com (via Twitter), Yoon isn't close to signing.
As I wrote earlier this week, Yoon had an impressive nine-year career playing for the Kia Tigers of the Korean Baseball Organization after debuting as an 18-year-old in 2005. After working as both a starter and reliever early in his career, Yoon was moved into the team's starting rotation for the 2011 season. The right-hander responded to the challenge by registering a career-best 2.45 ERA and 9.30 K/9 rate in 172.1 innings and earning recognition as the league's MVP.
Yoon is an attractive option for any team still in need of rotation depth, as he's exempt from the international spending restrictions under the new collective bargaining agreement. Basically, the team that signs Yoon will not have to pay a posting fee or sacrifice a future first-round draft pick.