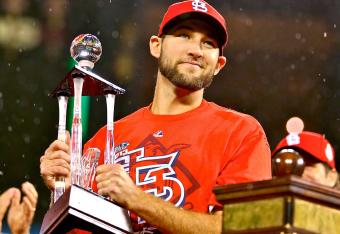 On Friday night, Michael Wacha became part of baseball history.
Starting Game 6 of the NLCS in St. Louis, the 22-year-old rookie shut out the Dodgers for the second time in the past week, allowing only two hits and a walk with five strikeouts over seven stellar innings.
More importantly, Wacha helped extend the Cardinals season once again, as they ultimately won the game 9-0 and punched a ticket to their third World Series in the last eight years.
Between both starts in the series, Wacha was 2-0 with 13 strikeouts in 13.2 scoreless innings. Needless to say, it didn't come as a surprise when he was named as the NLCS MVP, becoming the second rookie pitcher in baseball history to win the award.