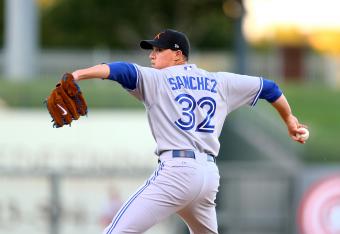 USA TODAY Sports
The 2014 season has seen a number of notable prospects receive call-ups to the major leagues. Undoubtedly, there are more to come—and soon.
Highly regarded youngsters like George Springer (currently on the disabled list), Marcus Stroman, Jonathan Singleton, Gregory Polanco and Ken Giles have been seeing regular run for their respective clubs for quite some time now. Others like Oscar Taveras, Taijuan Walker and Kevin Gausman (no longer prospect-eligible) have been shuttling up and down between the minors and majors.
With a week to go until the July 31 trade deadline, there should be plenty of promotions of prime prospects as the wheeling and dealing opens up 25-man roster spots on teams that are selling and building for the future.
Meanwhile, contenders are finding ways to fit youngsters into the mix to help down the stretch. That's the story in Toronto, where the Blue Jays have called up Aaron Sanchez, according to Shi Davidi of Sportsnet. Normally a starter, the 21-year-old right-hander will try to provide a boost out of the bullpen and looked great in his first appearance Wednesday, throwing two perfect innings of relief.