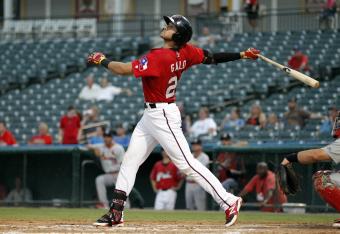 USA TODAY Sports
Any conversation about the Texas Rangers farm system begins with Joey Gallo, the 21-year-old slugger who led all minor league hitters with 40 home runs in 2013 and then broke that mark this past season with 42, ultimately falling one shy of Kris Bryant's MiLB lead.
Catcher Jorge Alfaro continued to flash his offensive upside and reached Double-A, though his defense is still very much a work in progress. 2013 draftee Alex "Chi Chi" Gonzalez is a high-probability right-hander who pitched better after a midseason promotion to Double-A, and he has the makings of a solid No. 3 starter with his plus fastball movement and deep arsenal. The organization added two impact arms in the Joakim Soria trade, acquiring right-handers Jake Thompson and Corey Knebel from the Detroit Tigers.
Outfielders Lewis Brinson, Nick Williams and Nomar Mazara's tools began to play in games more consistently last season, resulting in the latter two players finishing the year in Double-A.
In this year's draft, the Rangers stole right-hander Luis Ortiz with the No. 30 overall pick, and they also got one of the class' best pure athletes in Ti'Quan Forbes (No. 59), as well as an underrated prep hitter in Josh Morgan (third round).