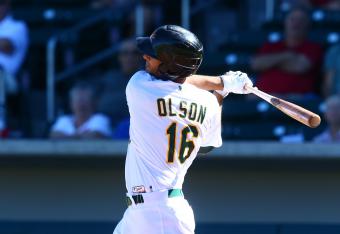 USA TODAY Sports
Addison Russell was viewed as the only potential star in Oakland's farm system headed into 2014, but that obviously changed when he was dealt in early July to the Cubs in the Jeff Samardzija-Jason Hammel trade. Outfielder Billy McKinney, the A's first-round pick in 2013, also was shipped out in the trade.
However, general manager Billy Beane and the A's have done an admirable job restocking their farm system since the end of the season. In late November, the team traded All-Star third baseman Josh Donaldson to the Blue Jays in return for Brett Lawrie and three prospects: right-hander Kendall Graveman, left-hander Sean Nolin and shortstop Franklin Barreto, who ultimately replaced Daniel Robertson as the team's top shortstop prospect after he was dealt to the Rays.
The A's then received another four-player package in early December, this time from the White Sox, as they traded Samardzija for infielder Marcus Semien, catcher Josh Phegley, right-hander Chris Bassitt and first baseman Rangel Ravelo.
Oakland also gained a few other notable prospects in offseason trades, acquiring second baseman Joey Wendle from Cleveland in exchange for Brandon Moss, and then adding late-inning reliever R.J. Alvarez from San Diego as part of the Derek Norris trade.