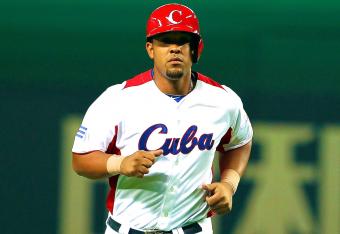 The Chicago White Sox have taken what they hope will be a huge step forward to getting back on track after a dismal 2013 season by signing high-profile Cuban slugger Jose Dariel Abreu to a record-setting contract.
According to Ken Rosenthal of Fox Sports, Abreu's deal with the White Sox will be for six years and $68 million:
That is a huge sum of money to invest in anyone, let alone a player with no Major League Baseball experience. Then again, the White Sox are no strangers to throwing money around if they think it will help them win. The latter part of that statement makes this a more puzzling move, because this team isn't going to win much over the next two seasons, attempting as they are to rebuild a depleted system that has been neglected for years.
There will also be a lot of pressure on Abreu to succeed due to what we have seen from recent foreign imports like Yoenis Cespedes, Yasiel Puig and Yu Darvish. And that's not to mention Cubs prospect Jorge Soler, whose tools are translating nicely to the U.S. and could make him an impact MLB player very soon.