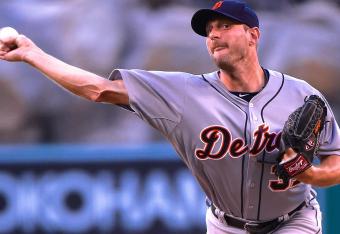 Getty Images
The Detroit Tigers and Los Angeles Angels met in the first of a four-game series Thursday night, a series we may very well see again in October.
The game itself had a playoff atmosphere, with defending Cy Young Award winner Max Scherzer starting for the Tigers and All-Star snub Garrett Richards for the Angels, and superstars Miguel Cabrera and Mike Trout playing on the same field.
However, based on the outcome, the Angels can't be too excited about the prospects of facing Scherzer and the Tigers again in the postseason.
Though he wasn't at his best, Scherzer still stole the show Thursday night as the right-hander struck out 11 batters over seven innings and powered the Tigers to a 6-4 win.