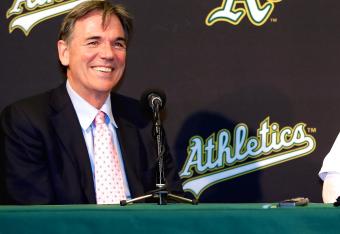 Getty Images
Oakland Athletics general manager Billy Beane is tired of his team being "one-and-done" in the playoffs.
The A's have been to the postseason seven times during Beane's 17-year tenure, but they reached the American League Championship Series just once. More recently, the A's have won the American League West in each of the last two seasons only to lose to the Detroit Tigers in the American League Division Series.
This year, however, Oakland officially is "all-in." And based on Beane's aggressive trades over the last month, he surely will be disappointed if the A's season concludes with anything less than a World Series title.
Beane bookended the month of July with blockbuster trades for a pair of front-line starting pitchers, acquiring Jeff Samardzija and Jason Hammel from the Chicago Cubs on July 5 and then Jon Lester (and Jonny Gomes) from the Boston Red Sox hours before the July 31 non-waiver trade deadline.