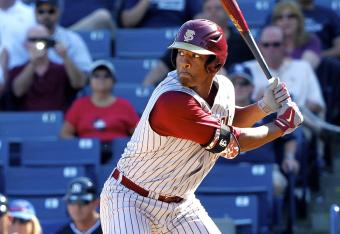 USA Today
It may not count in the standings, but all eyes were focused on George Steinbrenner Field on Tuesday afternoon as the New York Yankees played host to Heisman Trophy winner Jameis Winston and the Florida State Seminoles.
The Yankees did win the game, 8-3, but that was a mere formality. Even the best college teams are going to struggle against professional squads because of the talent disparity and the use of wood bats in the game. For his part, Winston went 0-for-2 at the plate, coming in as a replacement in left field in the fifth.
Winston's appearance in the game and New York's unofficial start to spring training made this one of the most talked about baseball events of the winter.
While his long-term future lies in football, Winston has brought a much-needed buzz to college baseball this spring because of his profile. He splits time between the outfield and pitching, as he did in Tuesday's game.