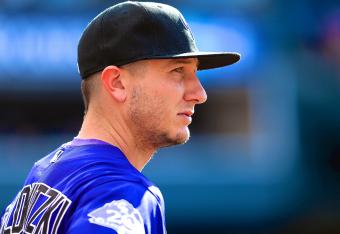 Getty Images
Apparently the St. Louis Cardinals aren't messing around when it comes to finding a shortstop for the 2014 MLB season.
According to Jeff Passan of Yahoo! Sports, officials from the Cardinals and Colorado Rockies are expected to meet during the general manager/owners' meetings this week to discuss a potential trade involving Troy Tulowitzki.
The fact that the Cardinals plan to pursue Tulowitzki, baseball's premier shortstop, is a testament to the team's lack of production at shortstop this past season.
Specifically, Cardinals shortstops batted .222/.280/.303 with 61 runs scored, 37 extra-base hits and 108 strikeouts in 620 plate appearances. That group, of course, was headlined by Pete Kozma, who batted .217/.275/.273 with 89 hits and 91 strikeouts in 143 games.