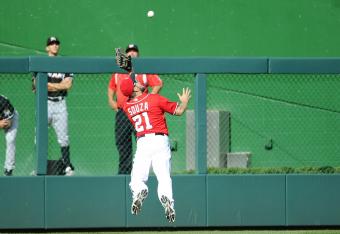 USA TODAY Sports
The Tampa Bay Rays stunned the baseball world Wednesday, agreeing to trade 2013 American League Rookie of the Year Wil Myers to the San Diego Padres as part of a three-team deal with the Washington Nationals, according to The Associated Press (h/t FoxSports.com).
In return for Myers, the Rays will receive a package of five young players, including outfielder Steven Souza Jr., who famously preserved Jordan Zimmermann's no-hitter on the final day of the regular season with a game-ending, diving catch in left-center field.
Souza, 25, put up monstrous numbers at Triple-A Syracuse last season, but the Nationals' surplus of outfielders prevented him from receiving consistent playing time. But Souza's situation in Washington wasn't going to improve in 2015, which prompted the Nationals to include him in Wednesday's trade.
Now penciled in as the Rays' Opening Day left fielder, Souza will finally have an opportunity to show what he can do on a near-everyday basis. And if it's anything close to his performance over the last two years, he's going to blow past expectations.