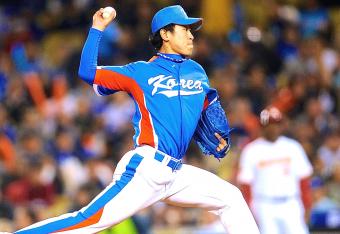 Getty Images
South Korean right-hander Suk-min Yoon and the Baltimore Orioles have reportedly reached an agreement on a three-year, $5.75 million contract pending a physical, according to MLB.com's Brittany Ghiroli.
While the Orioles have already shelved two potential contracts this offseason (Grant Balfour and Tyler Colvin) as a result of medical concerns, Jon Heyman of CBSSports.com believes that Yoon is "in good shape to pass" his physical.
Regardless of whether the Orioles deploy the 27-year-old as a starter or reliever next season, Yoon will soon face the challenges of pitching in the offense-driven American League East.
Here's what you need to know about the Orioles' new right-hander, including insight into how he might fare this season within the division.