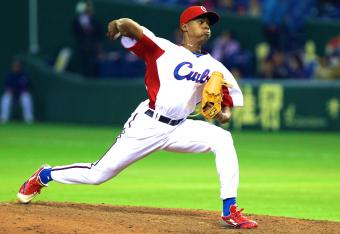 Getty Images
The latest news on baseball's international free-agent front is that a pair of high-profile Cuban players have defected and already established residency in another country.
Right-handed pitcher Raciel Iglesias has established residency in Mexico and is now waiting for clearance to sign with a major league team. Similarly, slick-fielding shortstop Erisbel Barbaro Arruebarruena also defected in the past month and has already established residency in Haiti.
Meanwhile, the inevitable bidding war for negotiation rights with Japanese right-hander Masahiro Tanaka has been delayed, with Nippon Professional Baseball and MLB struggling to see eye to eye on a new positing system.
Here's a look at the other notable international free-agent rumors from around the league.