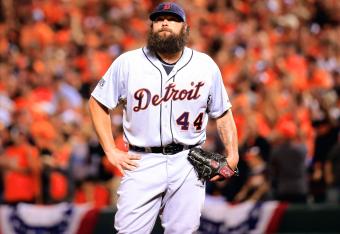 Getty Images
The Detroit Tigers' bullpen was their glaring weakness during the regular season, as late-inning collapses at times overshadowed their top-flight starting rotation and potent offense.
That trend carried over into Game 1 of the American League Division Series against the Baltimore Orioles. The Tigers bullpen coughed up eight runs in the eighth inning en route to a 12-3 loss in the opener.
The game was closer than the final score suggested. The Tigers trailed by just one run, 4-3, heading into the bottom of the eighth inning. And then the wheels fell off for Detroit.
Starter Max Scherzer recorded the first out of the inning before a double by Alejandro De Aza signaled the end of his night. Relieving the 2013 AL Cy Young Award winner was right-hander Joba Chamberlain, who promptly allowed two runs (one earned) without retiring a batter.