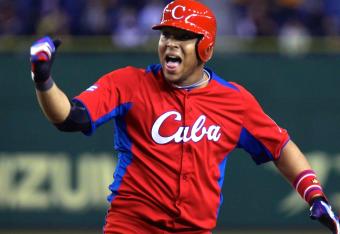 Chung Sung-Jun/Getty Images
The Arizona Diamondbacks made a splash this offseason with the high-profile signing of Cuban outfielder/third baseman Yasmany Tomas, the biggest name on the international market.
Tomas, 24, inked a four-year deal worth $68.5 million, making him the second-highest-paid Cuban player in baseball behind Boston's Rusney Castillo.
Naturally, there are high expectations for Tomas, who is making the jump directly to the major leagues and being asked to play a new position (we'll get to that in a bit).
Given the number of Cuban players to make an impact in recent years—and there are more on the way after Tuesday's news that MLB has adjusted the signing process for Cuban players—and the money saved on their contracts through team-friendly deals, all signs point to Tomas becoming a star player in the big leagues. Right?