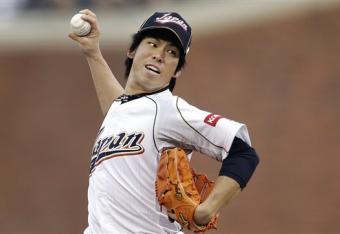 Ben Margot/Associated Press
The (multi) million-dollar question this offseason is whether Japanese pitcher Kenta Maeda will be posted by Nippon Professional Baseball's Hiroshima Carp.
Maeda was the subject of rumors last offseason as well, after the 26-year-old right-hander openly expressed a desire to pursue a career in Major League Baseball. However, with four years of team control remaining at that time, the Carp chose not to post their top pitcher, keeping him in Japan for at least one more year.
Now, with the free agency underway, speculation regarding Maeda's future in the States is once again picking up steam. But according to a recent report from The Japan Times (h/t MLB Trade Rumors), Hiroshima Carp owner Hajime Matsuda hasn't decided whether the club will make Maeda available through the posting system.
"We have the right. We would like to let him go, but based on his production this year it will be difficult," Matsuda said.