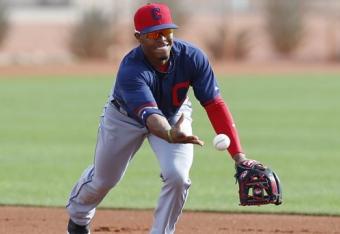 Paul Sancya/Associated Press
The best way to describe Cleveland's farm system after the 2014 season is sneaky good. Though it's thin on pitching prospects (less so after this year's draft), the Tribe have assembled a promising collection of young hitters, including several who are either switch-hitters or swing from the left side of the plate exclusively and project to remain at an up-the-middle position long term.
Shortstop Francisco Lindor is an absolute wizard with the glove, and after the Tribe moved Asdrubal Cabrera at the trade deadline, the stage is now set for the 21-year-old to take over as the team's everyday shortstop in 2015. Outfielder Tyler Naquin, the No. 15 overall pick in 2013, continued to silence his skeptics this season with a strong offensive campaign in the Eastern League. The 23-year-old also made strides with his defense in center field, easing some of the concern about his ability to handle the position at higher levels.
The Tribe's top draft pick from 2013, Clint Frazier (No. 5 overall), had an up-and-down full-season debut at Low-A Lake County, but the 20-year-old red-headed outfielder showed improvement during the second half and finished with respectable numbers.
As for this year's draft class, the Indians added one of the top college bats in outfielder Bradley Zimmer (No. 21 overall), a high-probability left-hander in Justus Sheffield (No. 31), a polished (left-handed) college hitter in Mike Papi (No. 38) and a projectable right-hander in Grant Hockin (No. 61).