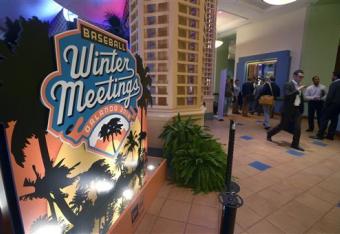 Phelan M. Ebenhack/Associated Press
Major League Baseball's annual winter meetings are nearly upon us, with the events to be held on Dec. 8-11 in San Diego, California.
With front-office personnel and executives present from all 30 teams, the winter meetings typically produce both high-profile free-agent signings and blockbuster trades. And with every team evaluating their rosters for the 2015 season, prospects are often the deciding factor when it comes to an offseason deal.
In recent years, we've seen more and more teams be willing to trade their top prospects, like when the Royals dealt Wil Myers and Jake Odorizzi to the Rays prior to the 2013 season, which was also the same offseason that the Blue Jays sent Noah Syndergaard and Travis d'Arnaud to the Mets.
And even though the deals that transpired last offseason didn't involve as many big-name prospects, we still saw numerous highly regarded young talents, such as Matt Davidson, Michael Choice, Jesse Hahn and Robbie Ray, get moved in exchange for veteran players.