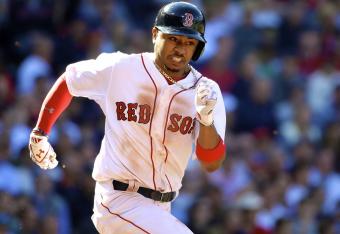 AP Images
The Red Sox's 2015 home opener Monday belonged to Mookie Betts, who had highlights with his bat, glove and legs in Boston's decisive 9-4 win against the Washington Nationals.
This may become a trend for the 22-year-old center field. He has continued to amaze with his athleticism, tools and feel for the game since debuting last season.
By now, you've likely seen his memorable plays from the first two innings of the game, but just to recap: Betts robbed Bryce Harper of a home run in the first inning with a fully extended, leaping catch over the right-center field fence and then showcased his tremendous speed and instincts in the bottom half by stealing both second and third base on the same play following a leadoff walk.
In the second inning, Betts turned around an inside fastball from Nationals starter Jordan Zimmermann for a three-run homer, a no-doubter over Fenway's Green Monster. (And just for good measure, he plated a run with an infield single in the third.)