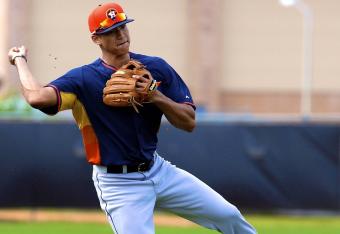 Alex Brandon/AP Images
Welcome to Bleacher Report's 100 Future MLB Stars.
The goal of the project is to assess players' individual skills using unique scoring systems for each spot on the diamond to determine who is most equipped to have an impact in the major leagues.
For position players, this meant looking at their five respective tools (using the 20-80 scouting scale): hitting, power, speed, arm strength and defense. We tailored the distribution of points to fit each position, meaning first basemen are held to a higher power standard, catchers are held to a higher defense standard and so on.
For pitchers, we looked at their fastball/velocity, best breaking ball, changeup and command. And since we're dealing strictly with prospects, we focused solely on pitchers who project as starters long term. So, no relievers.