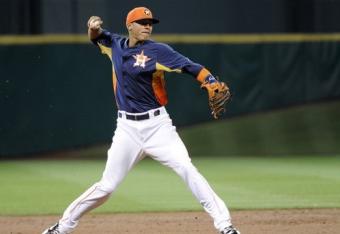 Pat Sullivan/Associated Press
The Astros' system took a hit last season with the graduations of George Springer and Jonathan Singleton to everyday players in the major leagues, and the organization's failure to sign draft picks Brady Aiken and Jacob Nix cost them two of the class' premier high school arms. Yet, it's still a system that's loaded with potential impact talent, from top to bottom.
Top prospect Carlos Correa once again opened eyes with his bat last season, posting a .926 OPS with 20 stolen bases in 62 High-A games before suffering a season-ending ankle injury in late June that required surgery. The 20-year-old has the makings of a future MVP candidate, and I have little doubt as to whether he'll remain at shortstop.
Mark Appel, the No. 1 overall pick in the 2013 draft, endured a rough year at High-A Lancaster, but the right-hander fared considerably better after a late-season promotion to Double-A Corpus Christi, and then ended his season on a positive note with a strong showing in the Arizona Fall League.
Outfielders Brett Phillips and Teoscar Hernandez both showcased a promising blend of power, speed and hitting ability last season at their respective levels, while Domingo Santana received his first taste of the major leagues.