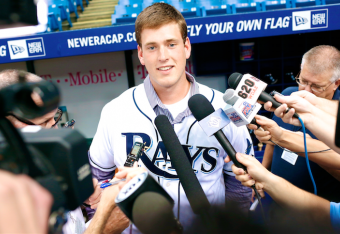 Getty Images
One could say that 2014 first-round draft pick Casey Gillaspie was born to play baseball.
The Tampa Bay Rays selected Gillaspie out of Wichita State with the No. 20 overall pick this past June, targeting the switch-hitter's advanced approach and big-time power. Plus, it certainly didn't hurt that he also came from a baseball family.
Gillaspie's father, Mark, was an All-American outfielder at Mississippi State before spending eight years in the minor leagues, reaching the Triple-A level with two different teams before hanging up his spikes after the 1988 season.
Though he never played in the major leagues, Mark still had a solid eight-year career, batting .287/.421/.503 with 138 home runs, 604 RBI and more walks (692) than strikeouts (676) in 880 games.