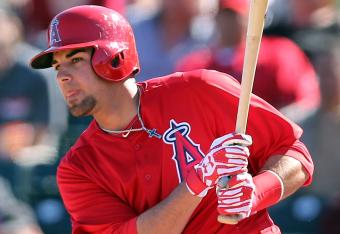 Christian Petersen/Getty Images
Years of spending money and punting draft picks have left the Los Angeles Angels in a lurch. They still have the best player in baseball, Mike Trout, but haven't been able to surround him with the talent necessary to compete in October.
High-profile signings like Albert Pujols and Josh Hamilton have battled age and injuries. The pitching staff is a mess. Help from the farm system has been sparse, which is a trend that figures to continue for the next few years.
To their credit, the Angels did add young, cost-effective pitching talent through trades this winter. Tyler Skaggs, who was originally drafted by Los Angeles in 2009, returns to the organization in a three-team deal with Arizona and Chicago. Hector Santiago also came over in that deal after a solid season with the White Sox.
Knowing that they had to address their pitching and not having money to spend on free agents, the Angels dealt a big piece of their lineup, Mark Trumbo, to land Skaggs and Santiago.