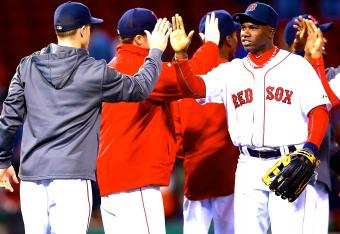 Getty Images
It's quickly becoming clear why the Boston Red Sox shelled out big bucks last month to sign Cuban outfielder Rusney Castillo.
Castillo connected for his first major league home run in the third inning of Thursday's 11-1 win over the Tampa Bay Rays, blasting a three-run shot into the seats above the Green Monster in left-center field.
He has continued to showcase his immense potential in the first two games of the weekend series against the rival New York Yankees, going 5-for-6 with a home run and two RBI through Saturday.
The Red Sox made Castillo the highest-paid Cuban player in baseball history last month, signing the 27-year-old outfielder to a seven-year, $72.5 million contract through the 2020 season.