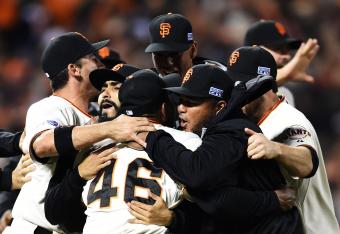 Thearon W. Henderson/Getty Images
For the second time in the last three years, the San Francisco Giants and St. Louis Cardinals are set to square off in the NLCS.
The series begins at Busch Stadium, with Game 1 scheduled for Saturday at 8 p.m. ET on FOX.
The Cardinals didn't have as strong of a season as they did in 2013, when they lost the Boston Red Sox in the World Series, but they played well enough down the stretch to edge out the Pittsburgh Pirates for the NL Central crown. In the NLDS, St. Louis knocked off the Dodgers in four games, beating Clayton Kershaw twice in the process.
The Giants, meanwhile, captured the second Wild Card spot and promptly ended both the Pirates' and Nationals' seasons within a five-game span. The team has won 11 of its last 12 playoff games dating back to the 2012 NLCS.