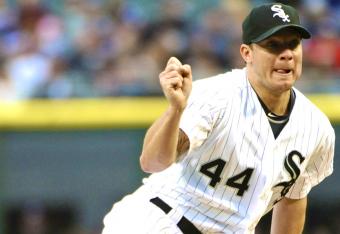 In case you didn't know, the Chicago White Sox will be sellers at the 2013 trade deadline.
Currently trailing Detroit by 18 games in the American League Central, general manager Rick Hahn and company are looking to move many of their top players, including veteran starter Jake Peavy.
Peavy, 32, is the team's most valuable trade chip heading into the deadline, as he's easily the top pitcher on the market and therefore capable of commanding a significant return.
And with their eyes set on the future, the White Sox are hoping to land multiple top-ranked prospects in exchange for the former NL Cy Young winner. However, as ESPN.com's Buster Olney mentioned in his column this morning (Insider subscription required), few teams are entertaining the idea of parting with their top prospects in exchange for the oft-injured right-hander.