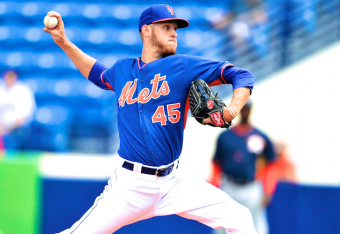 USA Today
The New York Mets will be without ace Matt Harvey in 2014 as he recovers from Tommy John surgery. Luckily, the team still has a host of promising young arms to look forward to in right-handers Zack Wheeler, Noah Syndergaard and Rafael Montero.
While Wheeler is coming off an impressive rookie campaign, both Syndergaard and Montero are on the verge of reaching the major leagues and expected to debut during the 2014 season.
But how good will the trio actually be? Well, if each player stays healthy and comes close to reaching his respective ceiling, then the Mets should feature one of the best and most exciting starting rotations for the years to come.
Zack Wheeler
Wheeler is obviously the better-known pitcher of the Mets' trio, as he was regarded as one of the best pitching prospects in the minor leagues headed into the 2012 and 2013 seasons.