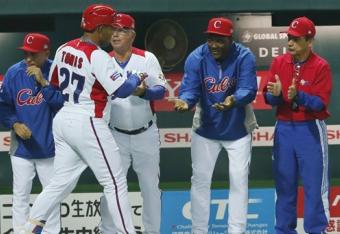 Koji Sasahara/Associated Press
With the 2014 Major League Baseball season set to end Wednesday night with Game 7 of the World Series, teams will soon direct their focus toward the free-agent market.
Even though this year's class features top-tier pitchers such as Max Scherzer, Jon Lester and James Shields, as well as a few middle-of-the-order hitters such as Hanley Ramirez, Victor Martinez and Pablo Sandoval, organizations may be more interested in what the international market has to offer.
As of now, Yasmani Tomas is expected to be the most coveted player. Teams have flocked to see the Cuban outfielder in various showcase events over the last two months. However, he is only one of numerous international players who are capable of making an impact in the major leagues as early as the 2015 season.
But which teams are most likely to make a run at this year's top international talents?