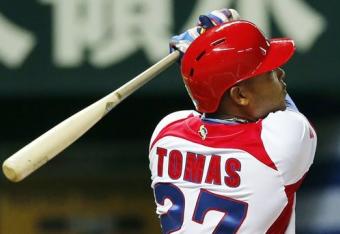 Koji Sasahara/Associated Press
Late last week we learned through a report by Ben Badler of Baseball America (h/t MLB Trade Rumors' Steve Adams) that another high-profile Cuban hitter, outfielder Yasmani Tomas, had defected in order to pursue a career in Major League Baseball.
Jesse Sanchez of MLB.com noted that the 23-year-old currently is in the Dominican Republic, and Adams points out he "needs to establish residence in a foreign country and then be cleared by both Major League Baseball and the United States Office of Foreign Assets Control" before he can sign.
With that in place, Tomas will be free to sign with an interested team for any amount, as his age and experience—he played in parts of five seasons for the Industriales in Cuba's Serie Nacional—"make him exempt from MLB's international spending limitations."
There isn't a definite timetable for the aforementioned process, as Adams notes, and Tomas may not end up signing with a team until late 2014 or even 2015.